Listen to this Article
---
To interact with Codi is to immediately fall in love with her. Her facial expressions speak volumes and being non-verbal has not been a deterrent for the advocacy work she undertakes with her mother, Jen, within her state and local community. Together, they have voiced concerns to the Alaska State Legislature about the importance of Medicaid for those with disabilities, participate in public speaking, and Codi also presented at the TEDx Grand Junction a week before the COVID-19 pandemic. Her talk was entitled Codi's Life: From Coding to Communication Technology.
Codi loves technology, but she also loves to travel. In her Air Hawk wheelchair that weighs only 40 pounds and can function as a manual or power chair, she and mom, Jen, enjoy travel experiences in many places throughout the U.S. Exploring new places, camping, participating in outdoor activities – these all bring Codi joy as is evident in the huge smiles they elicit. Her treasured pieces of technology are always with her and with Jen, they would research thoroughly then head out on their next adventure. Jen stressed the importance of doing a thorough research of targeted destinations and admits that bloggers like Cory Lee help immensely and are integral to their vacation planning. One major challenge frequently encountered is airport security.
"We try to travel as much as possible. But then, she has a gastronomy tube so traveling with liquids for all of her food is always the biggest hurdle. They will always want to check and make sure that it really is her food."
Being patted down by security guards was always a source of anxiety for Codi.
"That's kind of annoying. It used to make her cry when she was little. It was also hard because we would go through security—one person, then the other. So, we are separated for a while and that's kind of a scary situation for a nonverbal child in a wheelchair."
Jen and Codi would also have a difficult time finding wheelchair-accessible rental cars when they travel.
"I like having a rental car where we can independent. But rental cars that are wheelchair-accessible are really difficult to find."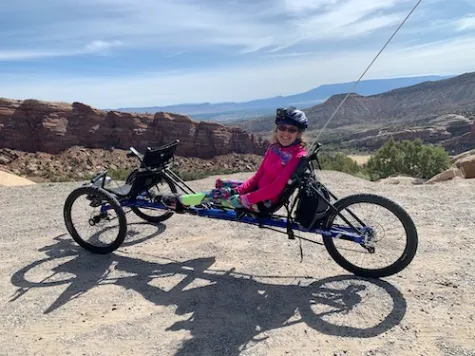 Love for adaptive activities
Still, despite the challenges, teenager Codi, does not shy away from traveling. Camping is done frequently but her outdoor activities does not stop there. Codi enjoys ziplining and has flown in a powered parachute. Adaptive snowboarding, paddle boarding, adaptive biking, swimming – she's done it all and loves it.
"We have a local organization here called the Colorado Discover Ability. We take advantage of the many nonprofits that are around to help with the adaptive adventures she likes to do," Jen shared.
Codi also visits The Adaptive Sports Center in Crested Butte,CO.,to participate in activities, such as their adaptive skiing challenge. Crested Butte is close to Jen's heart because as a young lady in her early twenty's she was a staff here when their adaptive activities began.
Jen remembers, "President, Jimmy Carter and his wife, Rosalynn, came to Crested Butte, and I was able to meet them because it was the grand opening of the adaptive sports center. Many years later, Codi gets to go there and participate in the adaptive adventures."
And, she is a true adventurer. "She's also gone rock climbing; does bi-skiing and slide skiing. She hasn't done any adaptive rafting yet, but we're probably going to do some of that soon."
Codi expressed that she loves adaptive skiing because it makes her feel free and strong.
Love for technology and the creative arts
Codi uses technology extensively and the 10th grader of the Grand River Academy, a typical teenager, loves hanging out with friends and being on social media. She has a TikTok, YouTube, Instagram, and Facebook account; and communicates using an iPad and iPhone. She currently has the iPhone 13 but is now saving for an iPhone 14. For socialization, Codi uses a power wheelchair which helps her to be independent.
"Messaging has been a huge part of her life," Jen said, "it really helped her learn how to spell and communicate more. Although, if you're around her for a while, you'd be able to understand her. I know a lot of parents don't really like the whole texting thing, but it's been a huge benefit for her."
For her online school, Codi uses the application Proloquo2Go which has different apps that helps her read and draw different projects.
"She also uses a regular PC, because the iPad interface with their Google Chromebooks didn't really work as well. She does coding and is taking a 10-week leadership class by the Colorado Cross-Disability Coalition and gets paid to do so. She is also into gaming and loves playing Disneyland Dreamlight Valley."
Technology, school activities, adaptive adventures all contribute towards Codi's very fulfilling life, but there is one other activity that is important to her – creative arts. She uses the Cricut and with her iPad, creates and prints drawings, makes T-shirts and prints for coffee mugs, among other things. She also creates intricate patterns on boards using tweezers and Perler beads.
Codi also starred in a commercial with Code Ninjas.
Love for writing
Codi is a budding author. She writes short stories.
"She got inspired by Mary Temple Grandin who was a professor at our local college here, an author and advocate. Codi loved her movie and we had the opportunity to speak with her. Since then, Codi has started writing about things that are important to her," Jen shared.
Defying limitations
With the host of activities that occupy Codi's day-to-day life, it is evident that the able-bodied perception of limitations do not apply to her. She is living a full life and participating in things that one may have thought was not possible – she is defying limitations, every day.
True enough, adaptive activities have impacted positively on Codi's emotional and mental well-being. She has been, in Jen's words, "adventuring since she was a baby," recounting the moment they rode off to the Colorado National Monument on a tandem recumbent e-bike.
"It was about 23 miles and we were surrounded by our friends. Her hands were just up in the air, and it was a really a good experience for her. These outdoor experiences level the playing field." Interested in learning more about Codi? Visit her website at https://www.codislifeadvocacy.com