5 accessible destinations that simplify travel
"Ain't nobody got time for that" seems to be the general vibe from parents of kids with disabilities when you ask about travel plans. There's a lot that goes into planning a trip when you have multiple needs to consider.
The following are accessible U.S. destinations that are designed with everyone in mind. While any vacation still takes some planning, these destinations take the load off because you know that your family will be in a safe, accessible environment designed to meet their needs.
Disney World
Disney World was our first family vacation as a family with disabilities. Planning any trip on our own felt overwhelming, and Disney's accessibility programs made it a less daunting place to start. All shows and restaurants, most attractions and many rides are fully wheelchair accessible, with no need to transfer. Most remaining rides are accessible if you're able to transfer. All resorts have accessible rooms and there are multiple accessible modes of transportation to the parks.
The staff are thoroughly trained to be prepared to meet a variety of needs, and if they can't help, they will quickly find what you need. There are companion restrooms throughout the parks and the first aid locations all have cots that can double as adult-sized changing tables. They also have several resources for people with cognitive disabilities. Disney World was a great place for us to start. All I needed to figure out was how to get there and where to eat!
Morgan's Wonderland

This theme park in San Antonio, Texas, was purposefully designed as an all-abilities space. Morgan's Wonderland is the world's first ultra-accessible theme park, where every single ride, playground, attraction and amenity is fully accessible.
There are only a handful of rides in the park (race cars, a train, a Ferris wheel and a carousel), but plenty of fun for all day. They have several all-abilities playgrounds, a sensory area and the equivalent of a small children's museum with a grocery store, weather station, digital art room and arcade. They also have games and free fishing. When it's warm enough, they run an impressive water park – which is also fully accessible! Admission for any guest with a disability is free.
John Dillon Park
Let's jump away from the lights and noise of accessible theme parks into the silence of the Adirondacks frontier.
John Dillon Park is an accessible campground deep in the forest. They have fully accessible lean-tos (essentially a three-walled cabin, for other camping novices), accessible bathrooms, only accessible paths and trails, and… well, fully accessible everything from adventures like fishing and boating to essentials like sleeping and eating.
This is another place where the trained staff make your trip easier. If there's anything that you can't do on your own in a wheelchair, ask for help. The staff are amazing and they'll help as much as they can. They can even get your gear from the parking lot to your campsite. Overnight camping is completely free, but you can also just use a day pass for hiking, fishing, boating, picnicking or whatever style of outdoor retreat you need.
Mesa, Arizona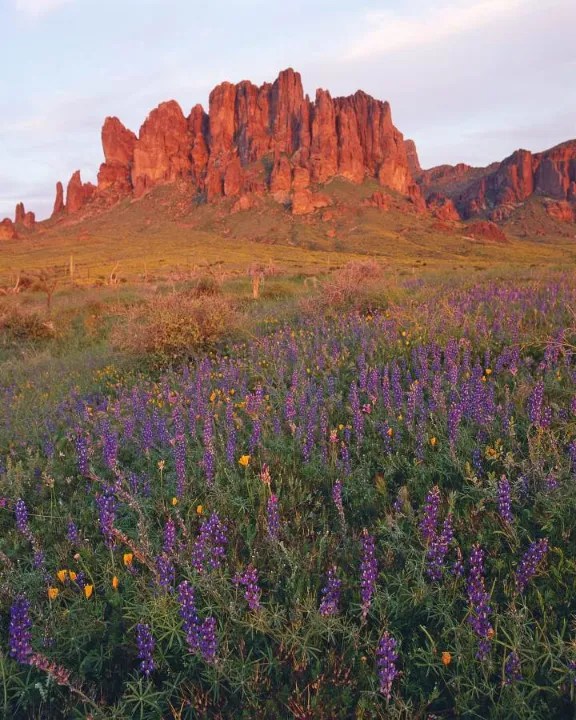 Mesa, Arizona is a destination that prioritizes accessibility and inclusion. As the nation's first Autism Certified city, they believe that all visitors should be able to explore with confidence, knowing that they are welcomed. This extends beyond the autism community to include people of all abilities.
While you'll still have to do some planning in choosing your accommodations and activities, Visit Mesa makes it easy with a website that is designed for planning disability travel. You can easily find lodging and attractions that are a good fit for your needs. You can explore pre-made itineraries based on your needs, or pick out your favorites from the accessible directory. Accessibility information is easily available for outdoor adventures, arts experiences, indoor attractions and everything else that Mesa has to offer. They're also leaders in the Sunflower Lanyard Program, assisting people traveling with invisible disabilities.
Greenbrier Valley, West Virginia
Greenbrier Valley is home to the world's most accessible hotel – The Schoolhouse Hotel. The boutique hotel, transformed from an old school, is thoughtfully designed to make every room and shared space exceptionally easy to navigate. The hotel makes a great launch pad for exploring the rest of accessible Greenbrier Valley. From expansive accessible trails to a trending small town food scene with mostly zero-entry eateries, the area has a bit of something for everyone.
The Greenbrier is an upscale resort that has several accessible activities open to the public, including day passes to the spa. Seasonal festivals add to the allure of the area, but there is something to do at any time of year; the small towns and the great outdoors are surprisingly easy to navigate.
Santa Monica, California
Without intention in design, beach trips are impossible for people with mobility challenges. Santa Monica has all of the essentials for an accessible beach trip – beach wheelchairs available from multiple locations, a mobi mat for ocean views and spacious accessible restrooms.
What makes Santa Monica our favorite accessible beach destination is how far above and beyond they go. There are multiple accessible parking options, with some spaces within easy rolling distance of the mobi mat. Multiple beach wheelchair pickup locations offer different styles of chairs, including electric beach chairs, giving everyone the freedom to explore different areas of the beach with each visit. The pier has plenty of accessible food options, tourist shops and local artisans. Accessible dining options abound, both on the boardwalk and off. Accessible views extend far beyond the boardwalk along the wide, paved oceanfront walk. The beach has three all-abilities playgrounds.
The Annenberg Community Beach House is a community destination that's free to the public. They have a splash pad, playground, gallery, Marion Davies Guest House, beach courts & fields, community & cultural events, historic pool, free Wi-Fi and more. This is one of the pickup spots for beach wheelchairs.