Listen to this Article
---
I want to start by saying that I am a loyal Marriot guest. For more than 20 years, I have chosen Marriott properties based on the level of accessibility I have come to expect. I am a Lifetime Titanium Rewards member. There are other brands, such as Hilton, that I also choose when a Marriott property is not available. I just want to get that out of the way before I finish the rest of this story. For the past two years, I have been working with a group of disability rights and accessibility experts located throughout Central and South America as well as the Caribbean to plan and host the Fifth Continental CBR CBID Congress of the Americas and the Caribbean. It was held this past November on the island of Antigua at the beautiful resort, The Royalton, a Marriott property. We selected this property because of its location and overall accessibility. As with most large events, a sizeable sum was paid to host the more than one hundred attendees for the Congress. Many attendees came from other islands and countries. Some were invited guests from Antigua who were able to hear and witness the progress being made on behalf of people with disabilities.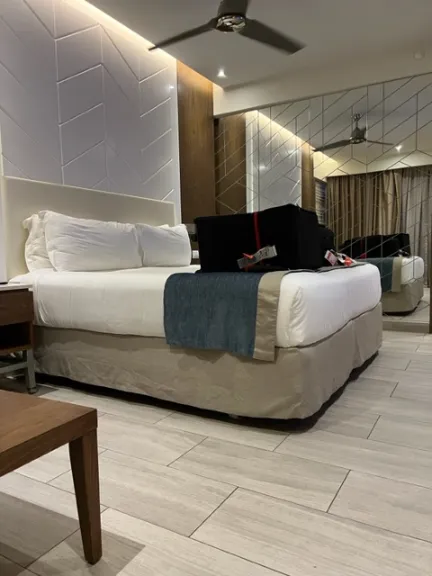 The property is all-inclusive. My reservations were booked at least a month in advance. But when I checked in, I was told they did not have an accessible room for me and the two that they had were already taken. I politely told them I booked an accessible room, had the guarantee, and showed them my reservation confirmation printout. They insisted that they did not have any accessible rooms available, and I told them that I was not leaving the desk until they could give me the room I reserved which, by the way, cost over $500 per night! The front desk associate left, came back 10 minutes later and said my room was ready. Now I am not sure how they magically went from "no accessible room available" to "your room is ready," but I had my room. Or so I thought.
The first room they took me to was NOT an accessible or adapted room. I told them this would not work as I could not even get my wheelchair through the bathroom door. After about 30 minutes, they showed me another room. It WAS an accessible room with some exceptions. The configuration of the door and small hallway was difficult to navigate with a wheelchair and nearly impossible to open without putting lots of pressure on the door. I'm pretty strong so I don't know how anyone could easily open the door. The sink in the bathroom did not have enough clearance to position my knees underneath so I had to sit sideways to use it. The shower area was quite small. The bed was an appropriate height. There was an accessible large balcony that overlooked the lawn and a lagoon. At night, it was quite noisy from music being played in the outdoor lobby area and noisy neighbors. The beach area was about three hundred yards away from the main hotel building. There were no lifts for the pools and no beach mats to traverse the sand, but they did have a beach wheelchair. I did not use it and I do not know if the staff was trained to assist anyone who wanted to use it. There were sidewalks throughout the property that were easily navigable with a wheelchair. The only place I saw Braille was in the elevators. There were no assistive devices for people who are deaf or hard of hearing. And I did not see any quiet rooms for those who needed them.
A couple of hours later, a friend, Anthony Mills, who is a disability leader on the island of Nevis and a paraplegic who uses a wheelchair, tried to check into his reserved accessible room. He was told by the front desk clerk that his room was being used by someone who did not have a disability and that they would try to locate them and ask them to move to another room. In the meantime, he was given a non-accessible room to freshen up and rest. He went back to the desk a few hours later for an update. He was told that they had not located the guests and that he would need to check again the next day. The room he was using was not accessible. There was no space to get into the shower and not enough room to safely transfer to the toilet. UNSAFE! He returned the next morning and was told he would have to wait until the guests checked out the following night to get his accessible room! This is unacceptable and maybe even discrimination.
Here are my biggest issues with this property other than the game played during check-in and how Anthony was treated. Each night after our meetings, a group of about ten of us would try to get seated between 6:00 and 6:30 PM at one of the many restaurants on the property. We were consistently told that all of the tables were reserved, but hardly anyone was seated at tables. When we asked to make reservations, we were told that unless we were a Diamond Guest, we could not. So, how could all of the tables be reserved and not available every night while other people were walking up and getting seated? Many nights we could not get seated until after 8:00 PM.
Sadly, what happened during our meetings for the Congress was more significant than any of the other issues experienced during our stay at The Royalton. Remember, a hefty sum was paid for meeting space, A/V equipment, and food for morning tea breaks and lunch. The Congress was a global meeting on accessibility and disability rights and services for people with disabilities. On day two of the Congress, one of our leaders took the podium and spoke to everyone in the room. He stated that he had been informed by management that, "some of our people have been taking too much food during the tea break or lunch." Wait, what?? Yes, management said that the employees at the food tables witnessed a few people taking an extra bottle of water or piece of fruit! Keep in mind that the food was already paid for, the people who were being singled out were local people with disabilities who were invited to attend, and THERE WAS ALWAYS PLENTY OF FOOD LEFT OVER! This announcement broke my heart and infuriated me. Antigua is not a rich island. The people who took water or a piece of fruit very likely were giving those food items to a family member who did not have enough to eat or drink at home. But seriously, is this the way guests are treated at an ALL-INCLUSIVE resort? The management should be ashamed of themselves for this kind of behavior!
Oh, and on a very insignificant note, not once was I greeted or thanked for being a lifetime Titanium Rewards Member as is customary at every Marriott property. Nor did I receive an itemized printout of my charges when I checked out, even after asking. Now, take all of that and compare that experience to a business trip I took two weeks later to Dubai. I was asked by His Highness Sheikh Ahmed Bin Saeed Al Maktoum, President of the Dubai Civil Aviation Authority, Chairman of Dubai Airports, Chairman and Chief Executive of Emirates Airline and Group, and his team to speak during the Dubai Accessible Tourism International Summit about accessible tourism for people with disabilities. Representatives from the Dubai government made arrangements for me to stay at the JW Marriott Marquis Dubai. When I arrived at the hotel, I was greeted by an entire team of managers, including "Captain" Yusef, one of the bellman who made sure that I had water and transportation each day, Mr. Hasham Alhaj, the Director of Loss Prevention and Government Relations, and Mr. Sajan Pallipurath, the Director of Rooms. They spent about 15 minutes with me after I checked in to explain the property and its amenities. What a wonderful way to be welcomed!
The property is a huge, two-tower, modern, elegant, and mostly accessible structure located on the Dubai River. Within 24 hours, each staff member I encountered at the pool, in a restaurant, in the lobby, you name it, greeted me with, "Hello, Mr. Fred. How is your day? Is there anything I can do for you? And thank you for being a Lifetime Titanium Rewards Member." WOW! Seriously, this was so nice. Admittedly, I do not like a lot of fuss wherever I go, but this was such a refreshing atmosphere to stay during my fourth business trip to Dubai. The hotel was very accessible for people with mobility, sight, and hearing disabilities. I spoke with the manager about considering a lift for the pool as they are planning to update the hotel, a bit surprising given its new look and feel. I also spoke with him about my experience in Antigua and he offered to provide training to management at the Royalton. I would like to return to this Marriott property again and experience the updates and enhancements made. The staff was friendly, helpful, and willing to take the time to learn what could be done to make future guest's stays even more enjoyable. I hope that anyone reading this article sees it as a "learning" moment for the management and staff at The Royalton in Antigua. When I spoke with a Royalton manager about the treatment of people with disabilities and the ridiculous comments made about the food, I offered my consulting services to help train the staff and management about working and communicating with people with disabilities. As of this writing, no one has contacted me to take me up on that offer or to apologize for what happened.