Listen to this Article
---
Bi-Skiing, snowboarding and sliders all are super fun! I have my own Bi-Ski it is a Blue Mountain Man. I have my own snowboard. It's black with pink Cherry Blossoms. I go skiing with my school, too. I have been skiing for 7 years, and I started snowboarding 3 years ago. I also have been doing the Slider for 2 years.
I need a helmet, goggles, clothes to keep me warm, socks and snowshoes.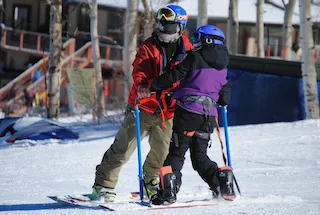 I stand with both feet on the board then I go down the slopes. I balance on the board, and I hold on to a bar that is connected to my board. I'm hooked into a climbing harness and my climbing harness is attached to the bar. This helps me with my balance. I can sit down in the harness if my legs get tired.
I go so fast down the mountain it makes me yell and giggle! I really enjoy going fast and it makes me feel good.