On the Dutch Caribbean island of Sint Eustatius, a family consisting of a mother and her two sons are having a discussion at her home. If you are privy to their conversation, you would undoubtedly believe that a meeting at corporate headquarters was in session, with the President and CEO being Carol Cuvalay, and the two gentlemen sitting at her right and left at the dinner table – their boardroom – her two illustrious Vice Presidents.
Meet Carol Cuvalay, a strong, independent woman and active social worker in her private life, whose aptitude for networking and event planning always drives her to seek out influential persons to visit Sint Eustatius for the sole purpose of motivating and inspiring children, families and the community. Her outward attempts to empower others is a reflection of what takes place within her inner circle. She is the head of a family empire that is slowly being built on Sint Eustatius and has worked hard to nurture her sons who are now considered to be stellar role models in the community, and young entrepreneurs of note on this Dutch Caribbean island.
At the age of 11, Carol left Sint Eustatius to attend school on Sint Maarten, then on to Aruba. At the age of 17 she traveled to the Netherlands. She remained there after school, started a family and was blessed with two sons, the older, Ulyssese (now 29) and the younger Giuliano (now 26). However, her homeland Sint Eustatius beckoned, and she returned in 2000 intending to make a difference and contribute to the growth and improvement of her community. Her sons soon followed after they completed school, and the three minds are now constantly churning with business ideas, not only to benefit themselves, but to make positive contributions to their island. Carol wants to give to her community in a meaningful way and the creativity, discipline and cohesiveness that the trio brings to the table produces tangible results.
Carol's older son Ulyssese is an IT professional, but he wished to explore something beyond the usual 9-to-5 job. He learned from his fiercely independent-minded mother that flexibility and economic independence were important.  In 2015, his quest for something flexible, but sustainable, brought him to the fashion company, Opulence. Today, this is one of the successful businesses he runs with his mother and younger brother, Giuliano, who is an avid lover of videography and photography.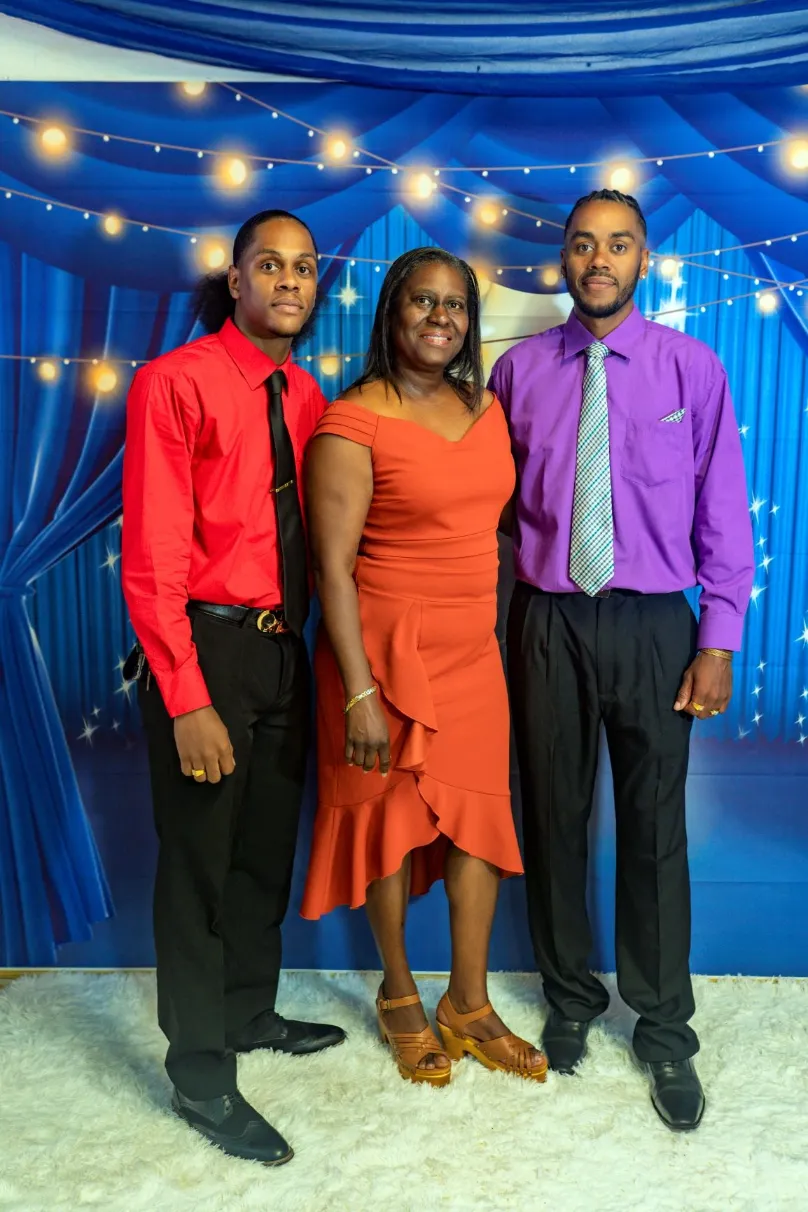 The Family Business
FeriBoyz
Their line of products that consists of beauty, fashion and health was introduced to Sint Eustatius with Carol being responsible for the sale of beauty and health products, while her sons concentrated on jewellery and fashion. The mother company, Opulence, headquartered in Canada, allow their partners to retail the products online or locally and host fashion, health and beauty parties. This venture has proved to be a very successful way to earn residual income and become financially free.
Twich Studio
This department is run by Giuliano better known as 'Twich'. He started in the Netherlands filming music videos with his phone. When he was 21 years old, he purchased a camera, taking photos of the family wearing their FERI jewelry and fashion products to have realistic images for promotional use. His high quality of work caught the eye of people in the community and quite soon, his hobby was transformed into a business as increasingly, paid opportunities became available. Photography and videography services were being requested for musical events, corporate events, weddings, graduations, live-streaming of funerals and more. You can find his work here.
Kidz Korner Bouncy Castle and arcade games
Various events – government and private, especially birthday parties, seek out the in-demand bouncy castle and arcade games the family has brought to the island. Managed by Giuliano and Carol, these have become a staple at social gatherings whenever children are in attendance. It would not be possible, however, without the loyal support of their volunteer team.
Darkside Muzik Label
While at school in the Netherlands, Ulyssese better known as 'Twizzle' simultaneously juggled playing basketball (a sport he absolutely loves), music, and academics. Music eventually took precedence and his independent record label, Darkside Muzik, was born. Ulyssese is a singer – his genre, rap. You can find his music here. He manages this label and his studio resonates with music production for himself and others, almost daily. He also does graphic design, specifically album covers for clients and manages client's social media accounts.
Farming
Ulyssese is the youngest farmer on Sint Eustatius and he's creating quite a stir. Eating healthy is his passion and he views farming as a way to make quality, organic produce available and affordable to the people on the island. His mission is centered, not only on growing organic produce, but also on educating people about the benefits of healthy eating.  No one else on the island in his age group has ventured into farming, so many people especially the older folks, have thrown their support behind him.  The government too, has been closely observing his farming progress and in support have now granted him a piece of land. They are impressed with his ideas to seek ways to create a mentorship program, showing young people farming techniques, a very necessary initiative for the maintenance of a viable sustainable food system generations on the island can enjoy.
Carol is understandably proud. As a single mother, she raised her two sons to be respectful, considerate, independent and resourceful. Theirs was a disciplined life with Ulyssese looking after his little brother after school, making sure homework was completed and other chores taken care of while mom was still at work. They knew they were not allowed to have friends visit when she was not at home, and they were also mindful that until all their school work was done, extra-curricular activities should not take place.
Even then at a young age, the boys were focused, and this persisted into adulthood. Ulyssese said, "My brother and I, we don't hang out, or drop in to a friend's house just to have fun and chill. We don't have time to do that because for us, that is time wasted, every minute counts." Giuliano, at 26, is full of wisdom. He said: "I think a lot has changed since social media came around.  Growing up in the early 2000s there wasn't social media, but the generation that I see now, they go to school, then rush home to social media, and their minds are all online now.  And the sad thing is, anything they see on social media, they try to imitate.  Back then, kids were not cursing and saying bad words. But now, if you look at the new version of this generation, these kids are screaming all kinds of bad words and stuff like that.  So, it's like the strictness that guided the younger generation has changed – a lot."
With a matriarch of great caliber at the helm, and being taught from a tender age that it is fine to have big dreams because anything is possible, this family is now living that dream. So, what's next for them? The response – continued meetings at the family dinner table to plan strategy, the pursuit of other dreams yet to be realized and providing  Sint Eustatius' residents with the tools to embrace sustainable, healthy lifestyles.
A sum of the manifestation of a mother's vison for her sons.