Hafsa Qadeer and her brother Ahmed Qadeer.
by Alexandra Nava-Baltimore
Hafsa Qadeer heard a whisper in her ear and followed it to Special Olympics. Working from Dubai, she currently works at one of the seven regional offices for Special Olympics as the Manager for Communications and Partnerships MENA, Middle East/ North Africa.
Qadeer grew up with her mother and five siblings. Her younger brother Ahmed Qadeer is her role model from whom she learns and from his actions in life, she gains tremendous motivation. Hafsa recognized Ahmed as a Person of Determination, a title given to those who identify as a person with a disability in the United Arab Emirates, (UAE). Qadeer constantly considers what her brother would do and has watched his wisdom and gratitude for the people and places around him. Although younger than her, Qadeer continuously learns from him and feels "lucky" to be his sibling. "He's my drive and motivation behind everything that I've committed my life to," she said. After living in Pakistan until 18, Qadeer moved to the UAE because she desired to learn and grow.
She said, "I feel like, in some communities, [people] have a very certain way and mindset of how women should choose to dream, how girls are told what they can and cannot dream about. And I've never had that mindset. I wanted to do something more with life and moved to the UAE to  learn." After beginning her college career at Middlesex University UAE campus, studying International Business, with a focus on Innovation Management, she worked on larger event projects outside of school. In her first year of college, in parallel to her full-time bachelors degree, she earned a professional diploma in Event Management and Innovative Marketing. Since school, Qadeer worked on several community service projects and planned many events. From her time while being a student at university, she recalls the project with "the government of Ras Al Khaimah," where artists from across the world could come together and share stories that connect with their communities.
Through her university studies, she was taught multi-layered skills and advocacy for projects on a large scale. Although Qadeer gained tremendous satisfaction and felt passionate about her work, she wanted to do more. She set future goals to use her passions and energy to do something that would significantly impact her brother's future. It wasn't enough for her to work at meaningful events; she desired to have a long-lasting effect and influence on the world. "I had a whisper in my head the whole time [telling me] you need to be doing something with all of this skill." While working at a communications agency, she heard that the largest humanitarian event of the year was coming to Abu Dhabi soon, and it was the 2019 Special Olympics. After hearing this news, something changed in Qadeer's mind, and the whisper she heard came back. She said, "the whisper that I'm talking about…this calling, all of my flags [were] up. It was like, I'm sorry, [I] need to go to this. I couldn't stop thinking about it. I'm not going to lie. I was driven." This loud whisper in her ear led her to take off from work for five days to volunteer where she knew she wanted to be.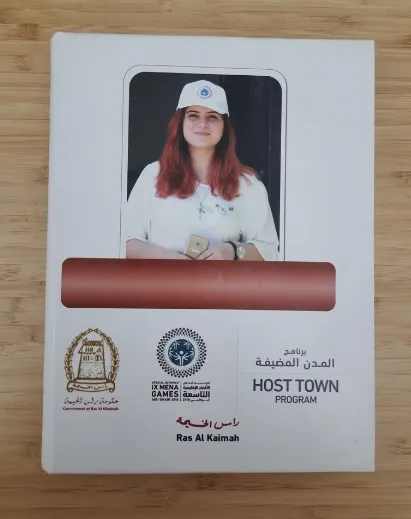 "That became everything. I completely changed," she said. This experience forever changed Qadeer's life and led her to her "dream job" at Special Olympics. After those five days, Qadeer wrote several letters to Special Olympics Local Organizing Committee in an effort to work there. She persisted and knew what she wanted, and eventually was hired.
Working towards Special Olympics Games in Abu Dhabi, she gained an understanding of the perspectives of the people and their feelings on inclusion. Qadeer began to recognize the gaps and opportunities present in society and knew that a range of possibilities existed in the Middle East. She had goals and ideas and wanted to be a part of these changes; her passion stemmed from this cause being so close to home. When starting her position, she had the opportunity to work in the legacy team with the Chief Strategy Officer of Special Olympics, World Games, Abu Dhabi 2019, where they welcomed 7000 athletes from over 200 countries across 7 emirates.
Soon after joining the team, she acquired the role of Manager, Host Town Program as part of the Local Organizing Committee. "This was pretty huge because [I was] managing a multi-layered program at 24 years old. I organized over 10 live-scenario workshops in collaboration with the planning team in readiness of the Host Town Program. To get to utilize and sharpen all my skills was like living as a kid in a candy shop." Qadeer also learned about the impact of inclusion in the education system, a framework that is being implemented across the world through Special Olympics Unified Champion Schools program.