Natasha Green wanted a name for her restaurant that was different and representative of her culture, primarily as a means of promoting and inspiring greater appreciation for her heritage. She wanted her business to capture the positive aspects of the Kalinago people's  culture and traditions. Having been instrumental in helping to start the process of revitalizing their Kalinago language, she thought that a name centered on that language would create the uniqueness she sought. Initially, the business was named 'The Little Canoe- Restaurant', however, she decided to rename it, using instead its Kalinago translation, Tilou Kanawa.
Born and raised in the Kalinago community of the Commonwealth of Dominica, from a very young age Natasha became involved with community groups and local initiatives and was even then, pursuing small business ventures. In 2008, she enrolled at the University of the West Indies Cave Hill campus to pursue an Undergraduate Degree in the field of Sociology, with the hope of strengthening her skills and capacity to assist with the development of her community. During that period, she founded the Kalinago Connections Inc, a local non-governmental organization to facilitate the implementation of plans, programs and projects in collaboration with other young professionals in her area.
In 2014, plans to launch her own business began. She undertook various small business trainings, developed her business plan, networked with other entrepreneurs and started construction on her business place in 2016. The multi-talented Natasha officially opened the doors of the Tilou Kanawa Restaurant to the public in October 2020. She took this opportunity to host a craft expo which included a display of brand Tilou Kanawa's souvenirs, branded T-shirts and Kalinago crafts. Music, complimentary local traditional dishes and a party at the restaurant ended the memorable event. Although Natasha is currently employed by the Ministry of Tourism supporting the development of tourism related projects on the island, inclusive of the Kalinago Territory, she is also managing her business and the ongoing initiatives of Kalinago Connections Inc., in her spare time.
On a visit to Tilou Kanawa, you will be presented organic, delicious local cuisine, unique to the Kalinago people. Natasha hopes to promote greater use of their cassava/yucca plus other root crops and incorporate fish and fresh vegetables to encourage healthy eating through their farm to table concept. They are also presenting their meals in local fashion through the use of canoe shaped dishes, coconut shells, larouman handmade baskets and more. Larouman Reed is endemic to the forests of the Kalinago Territory. It is traditionally used for handcrafting baskets of various sizes and styles by the Kalinago people. It is cut, dried in the sun and stripped to make it flexible and useable.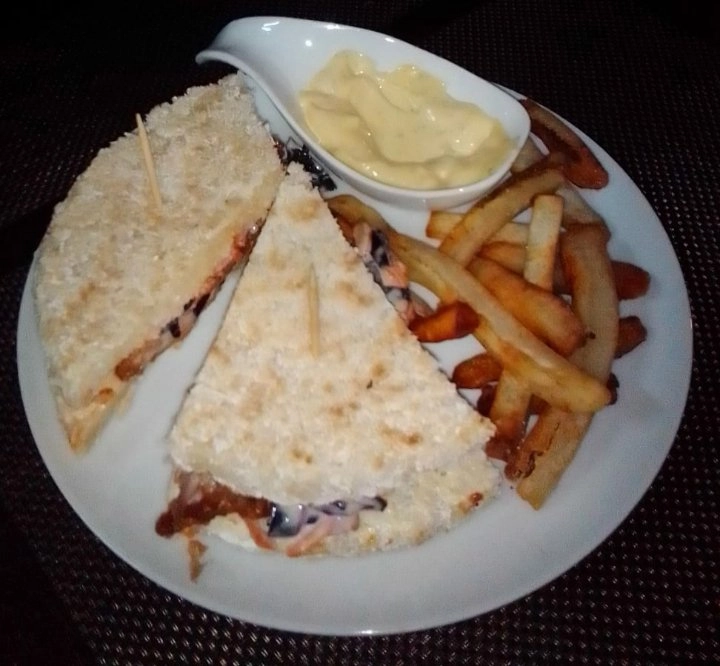 Their signature dish is the Cassava Sandwich – made using traditional cassava flat bread. Cassava/Yuca/Manioc is a traditional dietary mainstay of the Kalinago people, used for making flatbread, kanki or ducana as it is commonly known and farine which is a cereal-type product of the starchy root crop.
The use of this crop has served as a major source of income for residents and has been further identified for its potential to be developed into an export-oriented product.
One of the more popular dishes is local fries which may be made of Plantain, Cocoy, Dasheen or Breadfruit – most of these ingredients sourced locally from the community's Back to Basics Products.
Tilou Kanawa is family friendly and not generally crowded. Natasha and her team pride themselves in providing excellent customer service.
The ambience here is delightfully rustic and serene with a touch of class. The venue provides a picturesque view of the Atlantic Ocean and the French island of Marie-Galante lounging lazily on the horizon. Its location also affords an open view of the Kalinago villages/hamlets of Crayfish River and Bataca with Jolly John's Recreational Park visible from the open deck. This Park is one of the main playing fields in the hamlet of Crayfish River, named in memory of the Kalinago Chief Jolly John, who served in the 1930's. It is currently used for playing cricket, a sport very popular in the Kalinago Territory, soccer, and is also the venue of many community activities.
While at the restaurant, which is located at Salybia, directly opposite to the community Police Station, you can purchase special handcrafted souvenirs of their traditional canoes and canoe penholders, branded leather keyrings, mobile phone stands and souvenir t-shirts, which is a popular purchase. Natasha is working on having a wider variety of her Tilou Kanawa's branded products available and also plans to offer organized eco-tours to visitors in the future.