Two people travel separately to a tiny Caribbean island with wildly different expectations . . .
Tracy, a funny, feisty businesswoman in her forties, comes to paradise to investigate a shocking family secret. Expecting the worst, she instead falls madly for a charming fisherman. Is it just a holiday romance or could it – should it – last?
Beautiful Charlotte should be having the time of her life on her dream honeymoon – but isn't. And when she finds out why, her self-confidence and faith in the future are destroyed. Will the island help her heal?
Take a holiday from real life and voyage to Zephyr, a Caribbean idyll, replete with stunning beaches, luxurious hotels and comic cultural exchanges. Then, journey on to London and the bucolic British countryside, as both women grapple with what they need to do next, to live their best lives.
Available on Amazon 
She grew up on a dairy farm in Wiltshire, England and spent her early professional years in London until she had that "Aha" moment so many of us experience after visiting the Caribbean for the first time.
Her name is Trudy Nixon and her moment came in 2000 after her first visit to the islands. The island that made her realize that she belongs in the Caribbean and nowhere else was Tobago, but these days she calls the island of turquoise tranquility home. That island, of course is Anguilla.
Trudy is the editor of a visitor's magazine about the island, but recently she graced us all with a different kind of writing; that of her first self published novel titled, Endless Turquoise.
After devouring this novel, we had some questions that we were dying to get answered and Trudy, thankfully, was more than happy to oblige.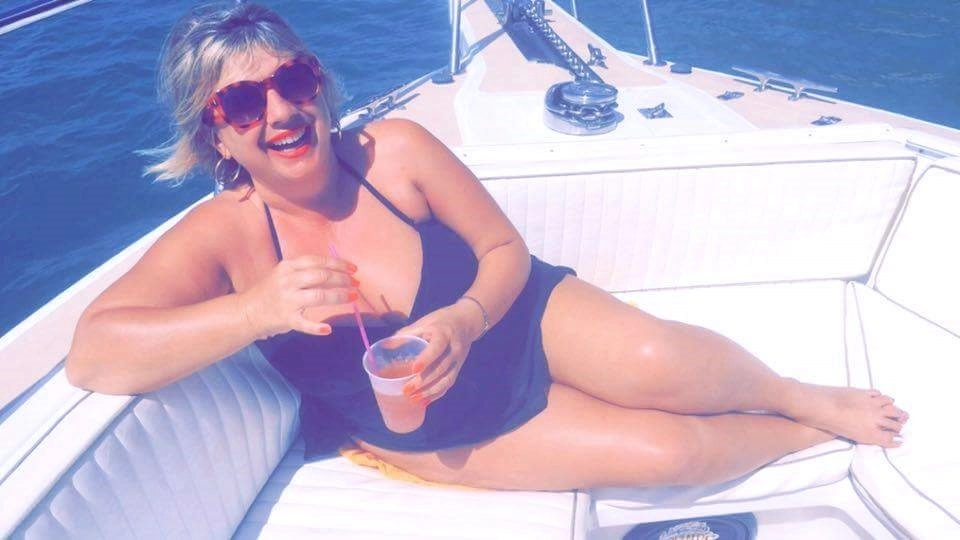 Mélange: How long have you been living on Anguilla?
Trudy: I first came in 2002 and moved here permanently in 2003
Mélange: What was it about Anguilla that made you decide to make it your home?
Trudy: I just fell in love with the island – everything felt, smelt and looked right to me.  I already knew that the pace, color and climate of the Caribbean suited me and I had found my perfect island in Anguilla
Mélange: What inspired you to write Endless Turquoise?
Trudy: I read a huge amount and always wanted to write a novel. I was inspired to finally get cracking by the Anguilla Lit Fest – you can read about how American novelist, Terry Macmillan was part of this process in my blog post on the subject
Mélange: The main characters in your book are Tracy and Charlotte. Which one of them do you identify with the most?
Trudy: I identify with elements of both of them. Tracy's reaction to coming to the island of Zephyr is really how I think most of my friends who have ended up settling here felt when they first came to Anguilla. Also, the fact people tend to underestimate her because of her job, age and looks.  Charlotte's love of her friends, lack of confidence in herself as a teenager and soppiness about animals is definitely me.
Mélange: How much of Endless Turquoise is based on your personal encounters on Anguilla?
Trudy: Some of the stories are a mix of real experiences with a bit of imagination – for example, Tracy meeting Morris the Taxi Driver has elements of meeting my first Anguilla Taxi driver (called Dennis) AND my first Nevis Taxi driver (called Almond)-both of them made an impression on me. They made me smile, welcomed me warmly and of course, flirted gently!  The only real place and people mentioned are Sue and Alan on the island of Prickly Pear and of course Shell Cay bears a striking resemblance to Scilly Cay (both small islands off of Anguilla)
Mélange: Zephyr is obviously based mostly on Anguilla but are there other Caribbean islands from which you have drawn inspiration to create this fictional paradise?
Trudy: Absolutely. There are elements of Anguilla, Nevis, St Martin, St Kitts, St Lucia and of course Tobago, all places I've spent quite a lot of time in. The bar in the book, "De Lime" is a mix of my favorite beach bars across the region, while the hotel "Mango Bay" a mix of my favorite locally owned hotels.
Mélange: Why call it Zephyr and not Anguilla?
Trudy: Because although there are elements of Anguilla – it is not Anguilla and because I will be writing more stories about it and I don't want people to think the island or any of the characters are real.
Mélange: We've read Endless Turquoise and we are already hungry for another one. Fortunately you have mentioned a second book. When can we expect it, and will it be about our two favorite ladies again?
Trudy: Thank you!!! I'm so glad you enjoyed it. So, I have storylines for two more at the moment and I'm working on them now. One will focus on Tracy and the other on Charlotte and introduce some new characters and more gorgeous destinations, in the Caribbean and Europe, as well as Zephyr.
Mélange: Can you give us a little hint of what the second book will be about?
Trudy: I'm not sure which one I will publish first. I'm going to ask my readers to decide in a few week's time!
Mélange: What if we want the same vibe as the beach bars Charlotte and Tracy got to enjoy featured in your book, where should we go on Anguilla?
Trudy: Well, there are so many great beach bars here you will be spoilt for choice but in no particular order and on different days:
Everett's (the Pelican Bar)
Johnno's, Elvis'
The Lit Lounge
Lime Keel (not on the beach but great village location and local feel), or
Garvey's Sunshine Shack will definitely work.
Oh, and make sure you try the rum punch at Coconuts at the Anguilla Great House!
Mélange: Who will enjoy your book? Who is it for?
Trudy: I hope it will appeal to anyone who loves a feel-good love story with a bit of mystery and a lot of humor – and of course anyone who loves to escape into a story that is set in a fabulous destination.
Mélange: How can we get our hands on your Endless Turquoise?
Trudy: At the moment it's exclusive to Amazon in paperback, e-book and on Kindle Unlimited. I will be bringing in copies to Anguilla and doing some book signings – I hope I can do some on St. Martin too.
"If you've ever been to the Caribbean, then you'll love the detail and nuances of being wholly transported back. If you've never been, then this enthralling story of discovery and love will make you want to go." 
~ Comment from reader of 'Endless Turquoise'