Listen to this Article
---
Your best travel experience
When thinking of my best travel experience, some wonderful memories pop into my mind. My best experiences are about the little memories and laughs and less about the destination. Sometimes even playing tourist in your own area can be great because it's easy to go back again and reminisce. The people you are with make all the difference – good or bad! Sometimes, just taking in a sight or experience on your own is powerful if it speaks to you in a unique way. I do like to believe that the best is yet to come in many ways because I'd like to think that I'm more at the beginning of my traveling journey! I went to Walt Disney World (which I love and will elaborate on further later) a few times, but other than that I didn't experience traveling too much in my childhood. It took me a while as an adult to put aside the "what ifs" and start initiating travel plans. I'm so glad that I did!
Your worst travel experience
Luckily, I haven't experienced any really bad travel disasters. I would say that I've had a few close calls / scares. For instance, on my latest trip I thought for about a half hour that my scooter battery was broken. In actuality, the restaurant's plugs weren't working! That experience made me appreciate my scooter even more! My worst travel experience was probably more stressful for my mom. In third grade we went to Florida, and before the trip I had pneumonia. When we got there, the pneumonia came back. With my specialists in Massachusetts, my mom wanted to bring me home. However, airfare was astoundingly high because tickets were barely available. It was a waiting game whether to visit a doctor that wasn't familiar with my complex medical history, to see if I felt better, or to go home. Well, I love vacation, so I rallied and stuck out the trip, but it's a good reminder to know your healthcare options at your destination.
Your must-return-to places
As I mentioned before, I'm a Disney Adult. I can't help but want to experience all of the new things and old favorites that Disney has to offer. I recently took my first cruise, and of course chose Disney, and I had such a great time! The experience made me really want to go on a cruise again. While I would go on another line, I imagine that it would be hard to beat the Disney experience. There's so many qualities that I love about the Disney parks, but one constant that it matches with the cruise is non-stop fun. As someone that has spent their fair share of time in the house sick or not feeling well, I love to soak up every minute of vacation. Even if you are just resting by the pool, Disney finds a way to add a little magic to that whether it's with the big screen on the cruise or the special themed pools and music. Although there are many places that I haven't seen that I would love to visit, I could keep going back to anywhere Disney related again and again because I feel like it would be impossible to experience it all!
Travel and/or equipment advice
When it comes to packing, anyone that has travelled with me thinks I am over the top, so I don't know how valuable my advice is! I separate everything by category into their own bags so that my suitcase doesn't become one big pile. I then put some of the bags in the hotel drawers and it feels like a filing cabinet! Vlogging requires packing extra equipment, so if you plan to document your trip in this way, I recommend doing a day trip nearby with all of your equipment and see what you really use. Sometimes tripods, extra lights, and other accessories seem great in theory, but it becomes a hassle to actually use them. I recently got an arm attachment to put on my scooter for my camera, and while I am still playing around with how to get the footage to be more stable, I think that this will help my arm from getting tired holding up the camera all the time. I also learned the hard way to bring a cushion on the plane if you have any chronic pain. I thought that wearing the comfiest and most versatile outfit imaginable for all temperatures was enough to get me through any flight, but I still had a lot to learn after experiencing runway delays! Also, now that I have my scooter, I have become a Certified Bag Lady. I took off the basket in the front since I heard that those can get lost during flights. I then attached a bag on the front which actually provides more storage, and I used a Velcro strap to secure my backpack on the back of my scooter so that it doesn't fall off or potentially get stolen easily.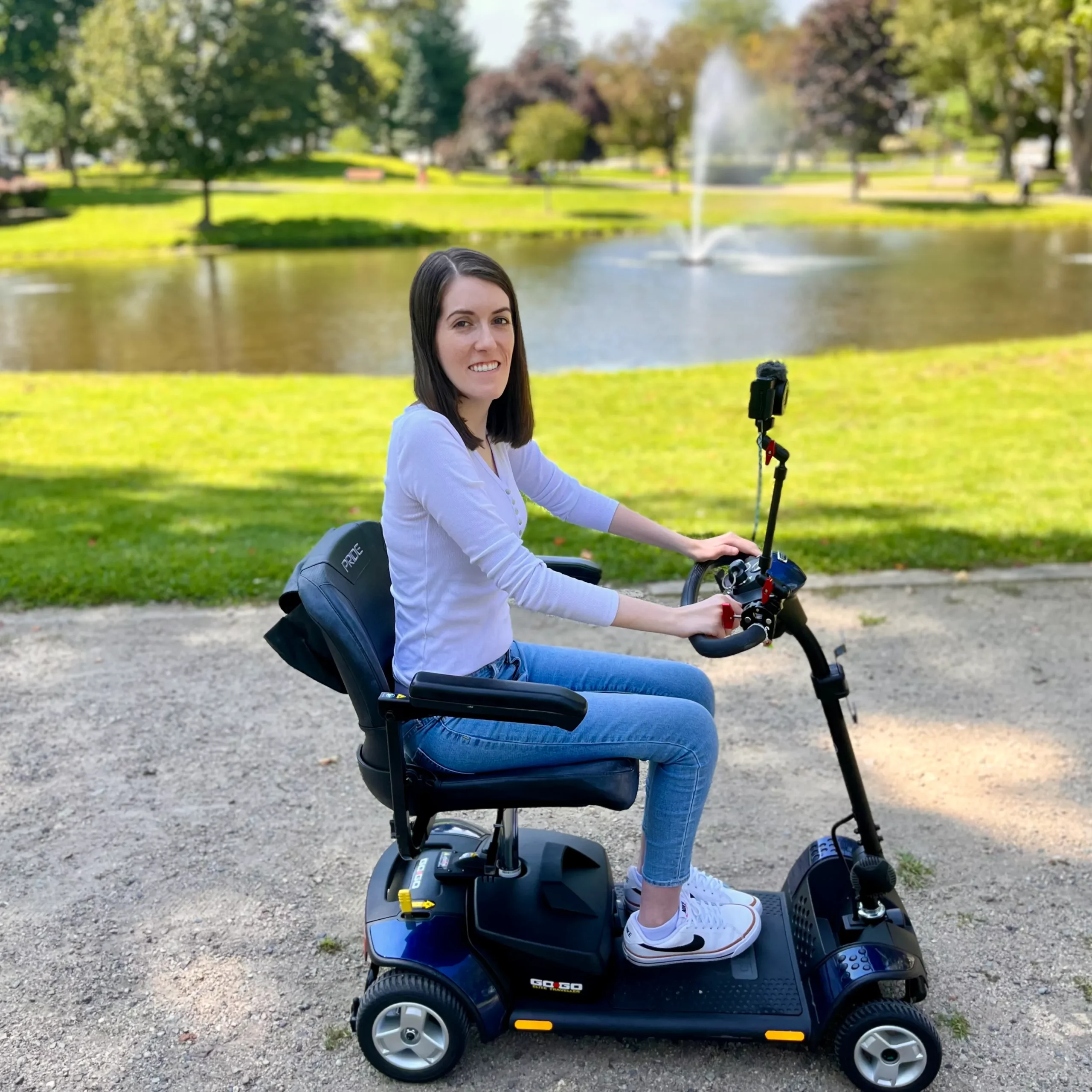 Advice to your younger self
While I have plenty of advice for my younger self, who knows if I really would have acted on it! When you are in specific environments, routines, or ruts, it is hard to listen to good advice! While I always tried my best to make the most out of every moment, when you grow up disabled you can't help but feel like you are looking from the outside in at times. I would tell my younger self that in the future you will be more confident in yourself, and you will find a way to go on the adventures even if it isn't the typical study abroad, backpacking, or hiking adventures that you see other kids your age being a part of. I would also say that while having a burden complex is common among people with disabilities, it is not something that you have to hold onto. While not everyone will feel comfortable being friends or going on adventures with disabled people, the people that aren't are missing out! I would also encourage myself to get involved in the disability community sooner. My final piece of advice would be to not be afraid to put yourself out there, meet new people, and be adventurous!
Bio
Having been born with a (still) undiagnosed muscle disease, my life has been interesting to say the least. While I have always been an ambitious person who strives to make the world a better place, at times this was at the expense of what was fulfilling and healthy for me. I have always loved creativity, and especially editing videos. After taking my first trip as an adult with friends, I realized that I am more capable of travelling than I realized! Once I got home from the trip, I swiftly got my own mobility scooter and started planning more adventures. Then I thought, why not document this? I started filming some local trips, and then I started thinking of short-form content ideas based on experiences in my life, and I realized that I had something unique to say!
Then, Daniellevates was born! Daniellevates is a play on my name combined with "elevates" because the content is all about elevating ideas about disability and rare disease. YouTube features vlogs of my adventures in the Boston area and beyond, including my trips to Walt Disney World and the Disney Cruise. These vlogs feature accessibility reviews and also serve as an example of someone living with a disability who can adapt and have fun! On Instagram, TikTok, and YouTube shorts, I post short-form content that is humorous, educational, or thought-provoking. I am excited to continue my adventures and be an advocate for the disability and rare disease communities, and I invite you to follow along!