Greater Fort Lauderdale welcomes visitors of all abilities to enjoy a beach playground unlike any other, from 24 miles of golden beaches and incredible nature encounters to vibrant arts and culture, a thriving culinary scene and much more. The region's convention and visitors bureau, Visit Lauderdale, works to remove barriers to provide a quality experience for all, including people with visible and invisible disabilities.
"Accessible tourism is not only about human rights, but also an opportunity to embrace and educate all visitors," said Richard Gray, Visit Lauderdale's SVP of Inclusion & Accessibility. "We embrace all visitors with wide open, welcoming arms, and we are dedicated to increasing awareness of accessibility features throughout the destination."
Greater Fort Lauderdale hotels, restaurants and attractions create a welcoming space for every guest. Many provide accessible amenities including accessible rooms – some specially equipped for the hearing-impaired – as well as wheelchair ramps, accessible outdoor dining spaces including spacious outdoor patios, special sensory-inclusive websites, and sensory-sensitive live performances such as those at Broward Center for the Performing Arts.
Area resources are listed on VisitLauderdale.com/Accessibility, including information on where to find wheelchair accessible beaches and about the Fort Lauderdale-based Special Needs Group, which provides a wide range of equipment including rentals of wheelchairs, scooters, audio and visual aid necessities, and other essentials. Equipment is delivered directly to cruise ship staterooms at Port Everglades, hotels, attractions, or the Greater Fort Lauderdale/Broward County Convention Center.
The Hidden Disabilities Sunflower Program at the Fort Lauderdale-Hollywood International Airport (FLL) offers guests with hidden disabilities a discreet way to request help or extra time while traveling through the airport. By wearing lanyards and pins displaying the sunflower – the symbol now recognized worldwide to raise awareness about hidden disabilities – airport employees are alerted that consideration and assistance is needed. FLL airport guests can opt into the voluntary program in advance of travel dates by requesting a lanyard or pin to be worn by both disabled persons and caretakers by emailing ContactFLL@broward.org. The airport also offers AIRA, a visual interpreting service that provides live, on-demand access to visual information for vision impaired travelers.
Greater Fort Lauderdale proudly hosted the Deaf Seniors of America 2023 Conference in June at the Seminole Hard Rock Casino & Hotel. The conference provided more than 1,000 deaf senior citizens the chance to connect, learn and explore the area with guided tours.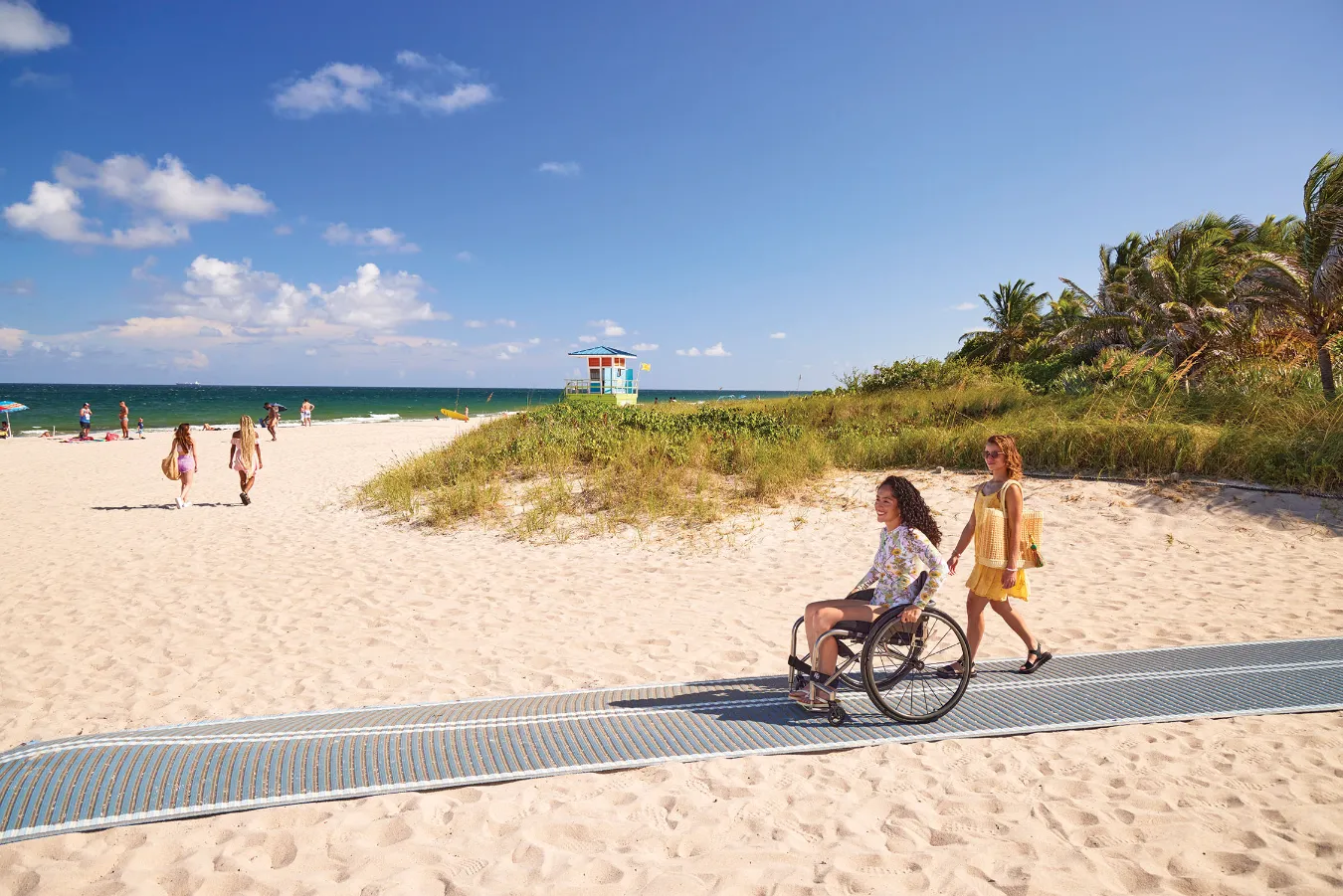 As Florida's most diverse and inclusive destination, Greater Fort Lauderdale welcomes everyone to a vibrant community that's filled with both tropical beauty and cosmopolitan delights, home to golden beaches, endless waterways, sophisticated luxuries and unexpected adventures. Plan your trip and learn more about Greater Fort Lauderdale's accessibility offerings at VisitLauderdale.com/Accessibility.