"Sunscreen application should start from early childhood and continue through adult life."
Sage advice from Binta, the creator of BeYouTiful Exfoiliates.
Binta is an island girl originally from the tri-island state of Grenada, Carriacou and Petite Martinique located in the Eastern Caribbean, but has lived in the United States for over a decade. She is a wife, mom to two spirited little girls, a chemistry teacher, and entrepreneur. She is also bilingual and had the wonderful opportunity to teach Spanish for a year at a high school in her home country, and to assist with translations in high schools in Texas where she currently resides. Binta is also a fitness enthusiast and weight lifting athlete, having competed in the "Figure" class division prior to becoming a mom. She now shares her workouts, health and fitness tips on social media. "My purpose is to inspire and motivate others to become the best versions of themselves, to take charge of their health, to look and feel good," she said, "therefore, I have decided to merge my fitness platform with my skin care line to create a body care brand."
About four years ago while pregnant with her first child, Binta became aware of the negative effect the hormonal changes were having on her skin – breakouts and extreme dryness was an everyday concern which persisted, postpartum. The chemist in her decided to embark on a quest to create products to address the specific skin issues she faced.  Within weeks of using the products she created, compliments were being received for her glowing skin and questions about her skin care regimen occurred almost daily.  She happily shared.
What started as a personal journey quickly grew into something more. Friends and family were requesting her products, so she made small batches of different items. It blossomed from there, she identified that this was a lucrative business, licenses and permits were obtained and BeYouTiful Exfoliates was officially born.
The BeYouTiful Exfoliates foray into non-family/friends-as-customers territory started in January 2018. Her first sales were in-person at local farmers markers. Customer reviews created a buzz in various communities and the business took off with her receiving pre-pandemic invitations to sell at holiday markets, special and private events. With the positive reviews came the realization that an Etsy shop was the next beneficial step which is the only place her products are now sold as Covid-19 has halted in-person events. Support from friends and family continued – her mom purchased the first item from her online store.
Products are made from fair trade, cruelty-free, organic material. Body butters such as shea butter, mango butter, and vitamin E oil are carefully chosen to ensure they will be most beneficial for the skin.
"Every ingredient does something different for the skin," Binta explained, "but it is also important to understand how to mix and blend." Oils each have a different rate of absorption and some can even cause the product created to behave unfavorably – such as harden or settle out. "This is where my background in chemistry comes in. There are many chemical principles involved in developing and manufacturing personal care products. One must understand formulation, chemical safety and shelf-life just to name a few. In many ways, I get to merge a hobby with my true profession."
BeYouTiful  Exfoliates start-up line of products were sugar and coffee scrubs. These were so well received that customers requested other products so lotions, body butters, various scrubs (including lip scrubs), moisturizers,  soap bars (including loofah soap bars), lip balms and others were added.   "I do not always offer the same products year-round.  A lot depends on what my suppliers can provide and what is in demand. I think it is a smart way to keep my business going."
With the BeYouTiful line of products, customers, both male and female, can enjoy a true spa-like experience, in the comfort of their home.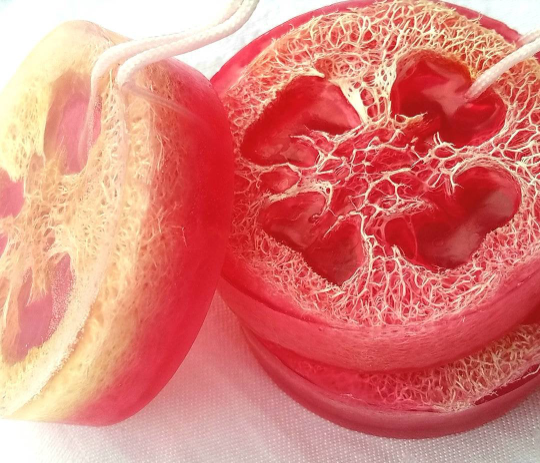 Customer-favourites are the body butters and "Revive" coffee scrub. The natural scent of coffee is invigorating, which may the alluring feature people enjoy. Reviews have had customers boast of a reduction in visible cellulite and dark under arms. The Exfoliates, such as the salt scrub, should not be used on children because of their delicate skin, but it is safe for them to use the body butters and soaps.
Binta's own beauty regimen includes exfoliating which helps to buff away dead skin cells thereby improving her skin's appearance. "I love using any of my scrubs for exfoliating my entire body. My "Revive" coffee scrub is great for early mornings because it helps with lifting your senses and awakening. My salt scrubs are perfect for late evenings and nights because they feel a bit more relaxing. It is not always necessary to follow up with a body butter or moisturizer since my scrubs are made with an oil base. I do this to ensure the skin is not left dry."  Her regimen also includes a very good diet and hydration. "I usually drink my cup of tea or latte in the morning but for the rest of the day, it's water and a smoothie post workout. Good hydration helps the skin retain elasticity, plumpness, appear less wrinkled, cracked and dry. A diet rich in a variety of vitamins and minerals is also imperative to having good looking and healthy skin."
According to Binta, the skin care routine one chooses will depend on many factors, including age, skin type and skin-related issues, but the simple routine of washing and wearing sunscreen can begin at an early age. Skin needs sunshine, but it should be protected against extended hours of exposure. Sunscreen application should start from early childhood and continue through adult life.
BeYouTiful Exfoliates can be purchased on Etsy or ordered directly from Binta via:
Instagram DM: @caribspicebeyoutiful
Facebook message: @beyoutifulexfoliates
Ships only within the continental US.
Everyone can expect to receive EXCELLENT customer service!