Donilia Reid, the face behind the brand
Love for the beach is inevitable if you live on the island of Anguilla. It beckons invitingly every day, luring both tourists and locals. The warmth of its powdery white sand and aquamarine waters can be enjoyed any day of the year, as Anguilla usually enjoys good weather, year-round. Being on the water is the favourite past-time of many residents and understandably so, because its picturesque beauty is irresistible.
With the beach being such an integral part of Anguillan life, swimwear is an important item of clothing, and it won't be surprising to find that many people will have a few in the closet, as visits to the beach are frequent. The swimsuits that are likely to emerge on any given day, however, are far from ordinary. Anguillan Fashion Designer, Donilia Reid, turns fabric into swimsuit masterpieces that adorn female bodies of all ages on the island. Her love for the beach is skillfully reflected in the unique pieces she creates which are proudly worn by her clients.
Donilia is just 23 years old, but her keen beach-fashion sense and resulting works of art belies her tender age. A lot of thought goes into her pieces, but she does admit that her inspiration is based solely on the ideas of what she herself will like to wear. Her creativity flows freely and clients embrace it, with each piece she presents, gladly accepted. For her, creating swimwear is a natural process and her style is unmatched.
"Creating swimwear is fun," she said. "I love to make playful pieces."
You can certainly have a swimsuit to match your every mood and being an avid-beachgoer herself, this aids the creativity.
Growing up, sports was her main interest but Donilia also experimented occasionally with sewing. She remembers watching keenly as her mother adjusted outfits for work. The spark grew and at eleven years old she was already sewing clothes for her dolls by hand. Everything changed for her one day while she was playing the usual photoshoot game with her sister – her sister was the model and she produced the clothing and did their 'photoshoots.' Her selected clothing for her sister to model that day was a swimsuit, which she made. When her mom got home from work, she was so impressed with what she saw that she immediately telephoned Donilia's school to ask whether there were any sewing programs she can attend. There was indeed a summer sewing program, she attended, learnt the basics of sewing and today she is changing the swimwear landscape in Anguilla.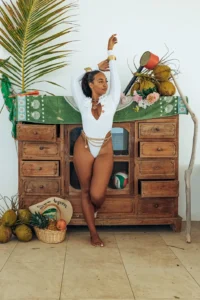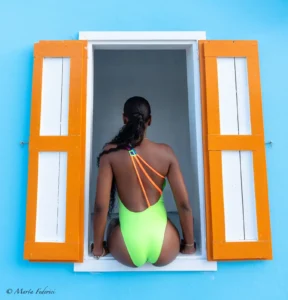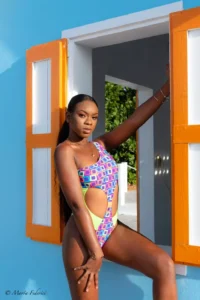 What started as a childhood interest and teen-age hobby has blossomed into a full-fledged business now being run from her studio in Blowing Point. For the past 18 months, the brand, Donilia Swimwear, has been on a growth trajectory with an ever-lengthening client list. Her work is of high-quality and each custom-made piece can be completed within just one week at prices from US$50 and upwards.  Although many of her clients live on Anguilla, she can work with anyone, anywhere in the world. Beach-goers everywhere, take note – her swimsuits are show-stopping!
The Donilia Swimwear brand can be described as playful, flirty, unique, a fun-wear and definite conversation-starter.  These are all positively complemented by the brand's owner whose modesty is as captivating as her beauty. With a smile that will light up any room, Donilia's gracefulness is refreshing. No ego resides here, just charm, natural talent and yes, an insane love for the beach.
Facebook: DoniliaSwimwear
Instagram: @_Doniliaswimwear
Email: doniliaswimwear.info@gmail.com
Swimwear she designed at 16 years old