| by Fred Maahs, Jr
Recently I had the pleasure to return to Dubai as a guest of Dubai Tourism to help assess accessibility for people with disabilities, also known as "people of determination" in Dubai. I was there in three capacities; consulting for my own business, FJM Solutions, as Chief Operations Officer and partner for Travel for All, and as Editor of Mélange Accessibility for All magazine. I was joined in Dubai by John Sage, his wife, and their colleague, all with Sage Travelling.
The trip began with an Amtrak train ride from Wilmington, Delaware to Washington, D.C. at 5:00 AM. I've taken Amtrak from Wilmington to Washington hundreds of times but this was the first time I "opened" the station in Wilmington with a police officer unlocking the station's doors to let me, and upon my arrival at Union Station in Washington, found it basically empty at 7:00 AM on an early December morning! From there it was a 40-minute accessible cab ride, (thanks to Union Cab) to Washington Dulles International Airport. Even at 8:00 AM, the airport was fairly quiet for what is normally a busy travel time. Smaller crowds and quicker lines through TSA made it feel like I was in the "Bob lane" – but thankfully less people were traveling and were being more cautious due to COVID travel restrictions, as they should have been. I had to take a COVID test and have negative results no more than 3 days before departure, followed by a COVID test once there, and another 3 days after my return. I didn't mind the extra precautionary steps. I would have taken even more if it meant I was more likely to travel safely.
My flight was at 10:30 AM so I had some time to catch up on emails and the latest news. When it was time to board, I had assistance from two very helpful airport agents as well as an extremely helpful crew to board the Emirates Airlines 777. I flew Business-class for the 14-and-a-half-hour direct flight to Dubai and remembered that my flight a year before was also Business-class. The incredible amenities provided by Emirates Air is beyond compare, but the extra room in your "lay-flat" seat is especially important and helpful for people with disabilities. As a paraplegic, it helps reduce the chance of DVT, or Deep Vein Thrombosis (blood clots – especially in your legs). Once you get to your seat, which feels like a private sanctuary, the crew immediately is "at your service" wanting to do all they can for you to have a pleasant and safe flight. This time, I was provided with plenty of PPE – gloves, hand sanitizer, a mask. Fortunately, I had brought an ample supply of my own PPE for the trip. The crew introduced themselves to me and I soon had a beverage in my hand and was ready for takeoff! I felt safe. I felt happy. I was too tired to be tired – you know, kind of like when you're a kid on Christmas Eve and you're so excited to wake up the next morning you can barely sleep! And, I was excited – excited to return to Dubai and to have the opportunity to explore so many new things.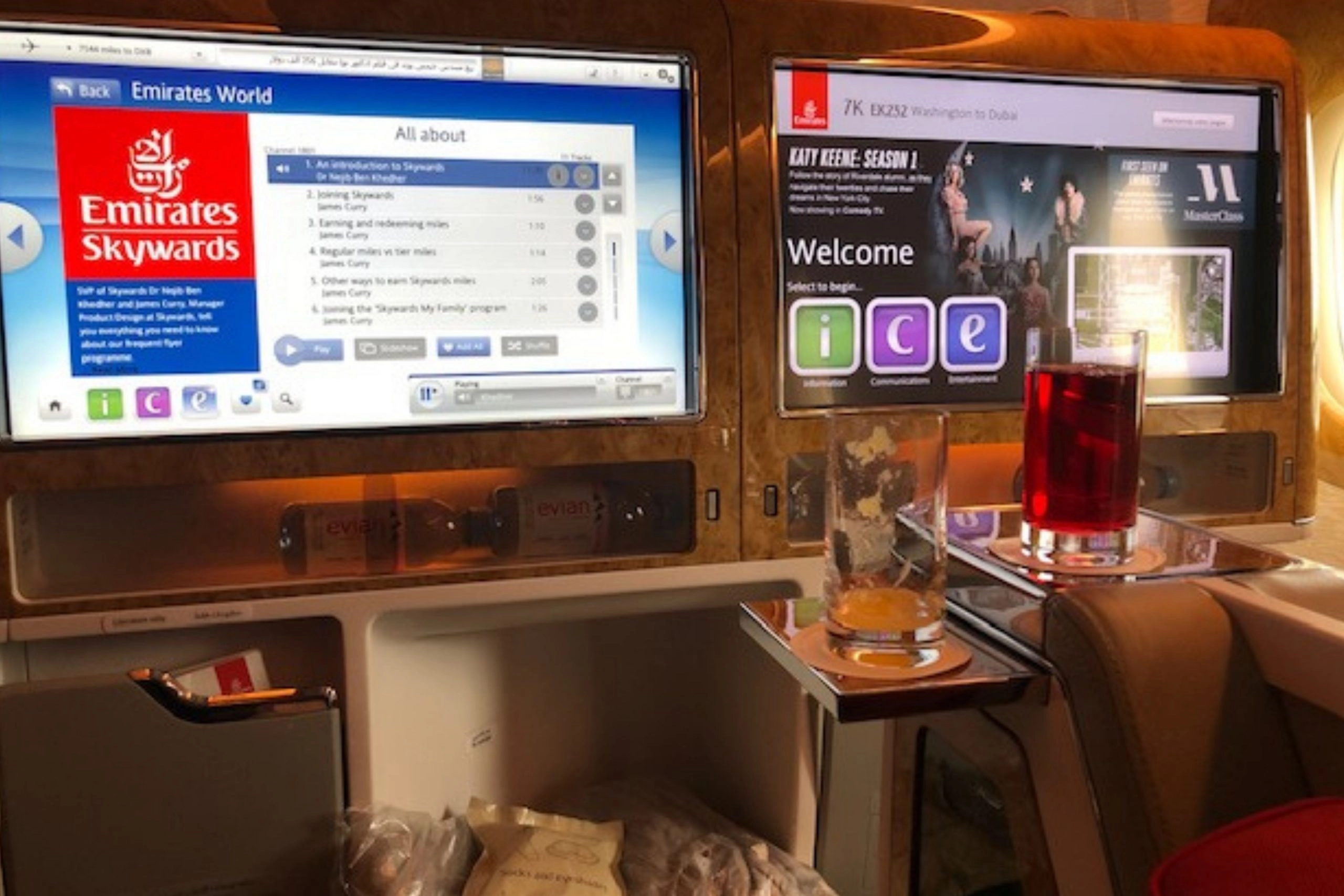 The service, attention to detail, the meals, and the beverages on board the flight to Dubai were all impeccable, right down to the fresh flowers delicately placed in sconces on the cabin walls. Once we landed in Dubai the next morning, a familiar song began playing over the plane's speakers. It was none other than Mariah Carey's, "All I want for Christmas." I couldn't help but to smile.
The Dubai International Airport, or DXB for short, is the largest airport I have I ever seen. It is simply massive, and the cleanest. I was greeted by representatives from Dubai Tourism who helped me breeze through Customs and luggage and quickly to accessible transportation. The ride from the airport to the hotel was about 40 minutes and my driver, Mr. Ihsan-ullah Umar Farooq, and his colleague, Mr. Mehul Bulsara, who would be the tour guide for the week, were quite friendly. I remembered our driver and kept looking him and realized I knew him. As we arrived at the Westin Dubai Mina Seyahi Beach Resort & Marina, he assisted me to the ramp and turned and said, "Mr. Fred?" And I replied, "Yes! Umar, I knew it was you!" He was my driver a year ago during a business trip and presentation for the inaugural Dubai Accessible Tourism International Summit. It was so good to see him again! And, it was good to be back in Dubai.
Upon entering the hotel, a Westin hotel employee was taking the temperature of each person entering the lobby as a precautionary measure for COVID.  Anyone with an elevated body temperature would be asked to speak with a hotel supervisor to understand what measures would be taken to ensure everyone's safety.  After check-in, I was shown to my room which was down a long hallway and then an elevator to the first floor. Anxiously I opened the door to my suite and found a spacious room that I could easily navigate my wheelchair around.  The bed was at the appropriate height, (23-24") so I would not have issues with transferring from my wheelchair to the bed and back. The bathroom was large and had a roll-in shower and a huge soaking tub.  The sink and vanity were accessible and there were grab bars in the shower and around the toilet.  The room also had sliding doors that led to a 20'x20' large open-air veranda which was covered and ramped to the grass which led to a sidewalk.  I was facing the beach located beyond the trees and walkways which blocked my view, but nonetheless it was easy to get to.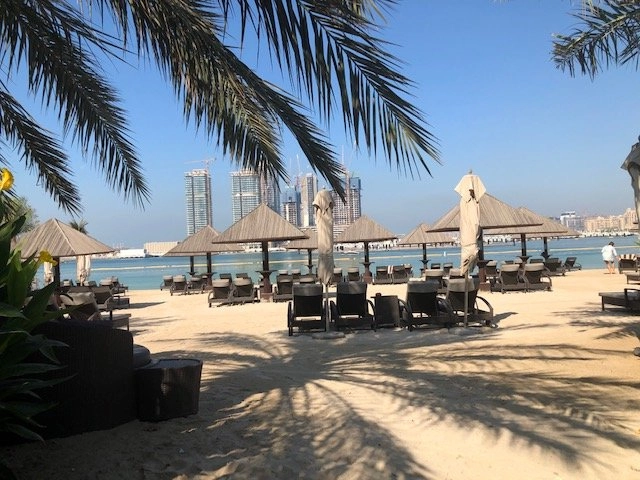 I was able to unpack some things easily and the iron and ironing board were easy to access safely. I pressed off a few dress shirts then went off to meet my friends and colleagues who are based in Dubai, Nawal and Ali, for a coffee at one of the outside restaurants. We sat at a beautiful and accessible table and caught up on business, life in general, and what the next week would have in store for me. And, the coffee was delicious, too!
After Nawal and Ali left for other business, I took some time to explore the beautiful and accessible grounds of the Westin. The property is massive and is located right on an expansive beach. While there were not large crowds of people there, there is plenty of room for sunbathing and activities, including lots of water sports. The summer months can get quite hot in Dubai and the Westin has plenty of pools and shade trees to stay cool. I would like to return to the Westin in early or late summer to enjoy all of the outdoor amenities the Westin has to offer.
During my walk, I could see new construction in every direction I turned – everything from new office buildings to new condominiums to new hotels. The amount of building taking place since the last time I was here a year ago is incredible. More about that a little later. The property next to the Westin under construction is the site of a new waterpark, Jungle Bay. It has since opened and will be a huge attraction for people of all ages.
The next day was a free day for us, so I had a late breakfast in the lobby restaurant and decided to go outside to enjoy the fresh air and the warm sunshine and to explore the hotel property. People were already enjoying the beach and the warm water as well as the pools at the hotel. While relaxing by one of the pools, I caught up on emails in the shade and enjoyed a few beverages. A few hours later, I decided to try the Fish Beach Taverna restaurant, part of a shared property with Le Meridien hotel next to the Westin, on the beach which specialized in Greek and Turkish food from the Aegean Sea, the Black Sea, and the Marmara Sea. It was a beautiful setting, all open air, shaded by palm trees. The main seating area was accessible but it may be a little tricky to be seated at a table on the grassy area. It felt like I had escaped to a Greek isle. My server was quite friendly and helpful and as I enjoyed a freshly made glass of Sangria, I was able to select fresh seafood from a display of prawns, lobster, fish, squid, and octopus. I selected three very nice prawns and asked that they be grilled. Wow! You must try this restaurant while in Dubai!
After lunch I went back to my room to rest and to catch up on news and emails.  Later that evening I decided to try the Bussola which is the hotel's Italian restaurant.  Chic, upscale décor with a bar area and outdoor dining if you choose.  All of the restaurant was accessible but I did not see any menus in Braille. It had a simple but impressive menu and an extensive wine list.  I enjoyed a fresh tomato and mozzarella salad and homemade pasta for dinner with a glass of Cabernet.  My server was from the Philippines and she made sure everything was just right for my meal.  This is another restaurant I would recommend that you try!
Breakfast was served early the next morning and our first meeting began at 9:00 AM.  We met with representatives from Emirates Airlines and the Westin hotel to discuss travel packages, accessibility for people with disabilities, and overall impressions so far.  We also met with Dr. Jennifer Camulli, a friend and colleague, but more importantly an expert in the area of inclusivity, especially as it relates to people with disabilities (people of determination).  Dr. Camulli is responsible for the oversight of accessibility and inclusion at the World Expo 2020 being held in Dubai beginning in October of this year (postponed a year due to COVID). Dr. Camulli spoke with us about accessibility and inclusion and her approach to work across all groups involved and responsible for a successful Expo, and how accessibility and inclusion are intertwined and a common thread for each area.
After our presentations we were taken to a part of old Dubai to visit the gold and spice souk market. This is much like the "farmer's" markets or places where artisans and others sell their produce, spices, and wares, with one exception – part of this souk market was high-end and selling gold and jewelry. We navigated through the market fairly easily though a number of the stores had a single step to enter – so if you use a wheelchair or have a mobility impairment you will need help.  I purchased some ginger, saffron, and a higher-grade frankincense.  Who knew there were different grades of frankincense? 
After our souk market visit, we left for a cultural lunch experience at Al Bait Al Qadeem Emirati Heritage Restaurant. We were greeted by the owner and his staff who showed us to a long wooden table. He was dressed in traditional clothing and explained the meaning of this type of clothing. We also about the history of the area and the types of food available and how the United Arab Emirates had traded pearls with other countries for spices and textiles – all helping to make the UAE and Dubai what it is today.
After lunch, we transferred to the Al Shindagha Museum, also in Old Dubai. The museum is located next to Dubai Creek and is very accessible and while not large, it is very modern in design and gives a thorough history of Dubai. Each of the rooms within the museum are accessible and even has some "hands on" displays.
From the museum, we were taken in a guided tour of the Al Fahidi District and learned that this is really where Dubai "began" – as a port for pearl divers with pearls as the primary "industry" for trade.
We left the Al Fahidi District to return to the Westin. It was late afternoon and yes, Dubai does have traffic. We had time to freshen up and relax for a short while before our on-site dinner at the Westin. We met at the El Sur restaurant which specializes in traditional Mediterranean food with lots of shared plates, or tapas. Accessible and spacious, we dined in a covered area outside and enjoyed a delicious meal.
The next morning we checked out of the Westin and we left for the Dubai Frame.  The Dubai Frame is a unique "building" which looks like a giant picture frame, and is claimed to be the largest picture frame in the world. It stands about 493' high and about 305' wide.  It only takes 75 seconds to reach the top of the 48 story structure after you purchase your tickets. 
An interesting piece of information: people of determination (people with disabilities) do not have to purchase a ticket for museums and public structures like this in Dubai and can bring up to two guests at no charge. Once there, the glass walls and glass floor provide you with views of Dubai.  One side of the "Frame" gives you a view of Dubai's "past" with the older buildings and the original seaport, and the other side gives you a view of the "modern" Dubai with its magnificent skyscrapers and glass buildings.  The Frame is totally accessible and is an interesting spot for tourists to visit!
After our visit to the Dubai Frame, we were taken to the Etihad Museum, historically known as the Union House. The Museum is an incredibly modern, accessible building with the rich history and artifacts, artwork, and displays of the United Arab Emirates inside. It begins with the stories of the seven Founding Fathers, each representing the seven Emirates and how the Emirates became the country that it is today. For an in-depth and visual understanding of the history of the United Arab Emirates, you should put the Etihad Museum on your list to visit.
From the museum, we drove about 30 minutes to the Jumeirah Hotel Complex, situated directly on the Arabian Gulf and part of a group of luxury hotels owned by Dubai Holding, with its majority shares owned by Sheikh Mohammed bin Rashid Al Maktoum, the Ruler of the Emirate of Dubai, and the primary founder of Dubai Inc. We toured a few of these resorts, each with its own style and "vibe" and all luxurious. For the most part, each resort included properly adapted and accessible rooms, with the exception of one of the resorts. If we had more time, we could have also visited the famous Burj Al Arab – claimed to be a 7 Star Hotel. There is a man-made river which runs through all of the properties so you can move from one resort to the next by boat, kind of like a gondola, or you can use the wide walkways to navigate the complex. All of the walkways are accessible, right down to the beach, but the boats may be a little more difficult to navigate if you use a wheelchair or have mobility issues. We were treated to an unbelievably delicious lunch at the complex at the French Riviera restaurant, on the Jumeirah Al Qasar hotel property, that was situated right on the beach with incredible views of one of the large pools on one side and the beautiful Arabian Sea on the other side. Just spectacular!
We could have spent the rest of the afternoon and evening in that little oasis, but had to leave for a 45 minute ride to the famous Dubai Miracle Garden, located in the Dubailand district of Dubai. The garden boasts the world's largest display of more than 50 million flowers which grow, and are displayed, on figures such as an Emirates plane, Disney characters, hearts, and various other statuary. The Garden is ramped and accessible and there are a few places to purchase food and drinks.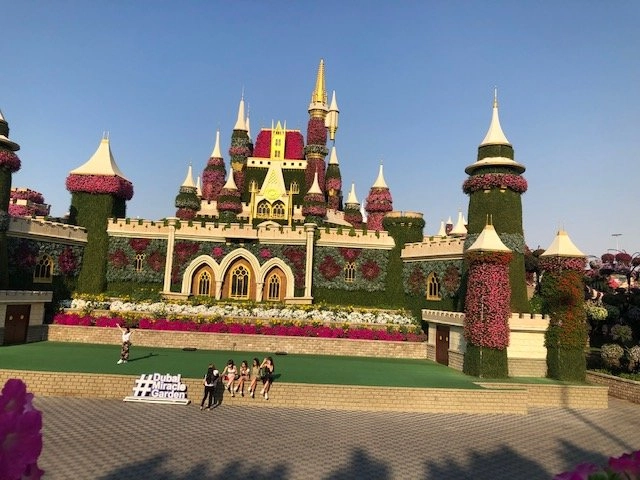 Our next stop was to check into the Oberoi Hotel, a recently updated and modern hotel with views of the Burj Khalifa.  Check in was quick and easy after we had our temperatures taken.  The Bellman helped with my luggage and we took the elevator to my room, a spacious and accessible space on the 6th floor.  The room had floor to ceiling glass windows and the bed was positioned to the proper height for easy transfers.  The bathroom was quite large with a long vanity and double sinks, one of which was accessible.  The roll-in, full-glass shower was large but did not have a flip-down bench, just a very small portable shower seat.  A large soaking tub with jacuzzi was situated next to the shower, and the bidet and toilet was directly to the left of the shower with a glass wall fixed just a little too close to the toilet which made it a little difficult to use, but manageable.  I was able to use the shower-commode chair I had purchased to access the toilet and the shower.
After a quick freshen up and a few minutes to relax, I had to meet with my colleagues Ali and Nawal from Massiraa to participate in a panel discussion about accessibility and travel. After the panel discussion I met the rest of my group in the hotel lobby for a tour of the pool area followed by a delicious dinner in the hotel at Nine7One restaurant which specialized in Arabic, Asian, and Western cuisine. The restaurant was accessible and the servers were very helpful.
The next morning we had breakfast in the hotel restaurant and then drove for about 40 minutes to the site of the Expo 2020 Dubai. The location is a massive area, almost 1,100 square acres, with a direct rail line and highway built to access it. There are 192 Pavilions representing each country that is participating in Expo 2020 Dubai. This World Expo will be the most inclusive and international Expo ever! It's also estimated the Expo will have created 277,000 new jobs by the time it ends. The Expo will have a theme called "Connecting Minds, Creating the Future". The Expo will also have three subthemes: opportunity, mobility and sustainability, each with its own pavilion. Each of the pavilions was still under construction. We met with my friend and colleague, Dr. Jennifer Camulli who led us on a tour and described the attention to detail given for accessibility and inclusion for all people. The Expo is beautiful, modern, unique, and of course, fully accessible so that everyone may enjoy it. The Expo runs from October 1, 2021 through March 31, 2022.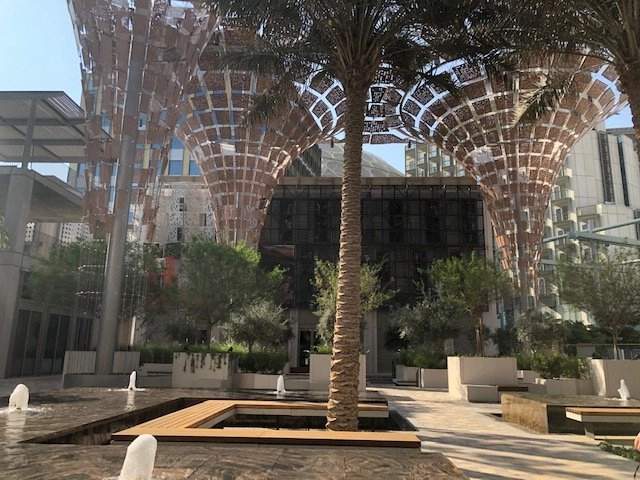 When we concluded our tour of the Expo we drove about 40 minutes to Atlantis, The Palm – a 1,548 room ocean-themed destination resort, spectacularly situated on the crescent of Dubai Palm Island with views across Dubai's iconic skyline. We met with a delightful representative of the Atlantis, Nerissa Ronquillo, who is a Manager of Sales. She took us on a tour of the Atlantis, including an accessible room with a beautiful view of the beach. The room was planned well and had the appropriate height of the bed, grab bars in the shower and around the toilet, and the sink height was at a comfortable and accessible level.
The property at the Atlantis was quite large, complete with an enormous pool, beach, and a gigantic aquarium with more than 65,000 marine animals. It also now boasts the world's largest water park! The resort has a number of restaurants to choose from and we were treated to a delicious lunch at Gordon Ramsay's Bread Street Kitchen and Bar. This is a place for all to enjoy and quite easily accessible. I hope to be invited back to experience all of the amenities and accessibility the Atlantis Dubai has to offer!
We left the Atlantis excited for our evening excursion, a desert experience provided by Platinum Heritage. It was about an hour drive from the Atlantis to the desert. We loaded into vintage 1950's Land Rovers and ventured through the Dubai Desert Conservation Reserve and saw native wildlife including Arabian gazelles just before sunset. It was beautiful! We stopped for a short while for a demonstration on falconry. It was quite interesting to see how they are trained and to learn how falcons have been used to hunt over the centuries in the desert. We then proceeded to an authentic open-air Bedouin camp sheltered by tents and seated on Arabic Majlis for our traditional three-course dinner of chicken, Australian filet steak, and vegetable moussaka. We enjoyed traditional music and drum beating. It was magical being in the middle of the desert in total darkness and looking up at the stars with each bright, twinkling light appearing so close yet so far away.
After breakfast at the hotel the next morning, our guides took us to the Dubai Mall where we parked and navigated through the mall to the entrance of At the Top BurjKhalifa. The Burj Khalifa is the tallest building in the world with an absolutely amazing view of Dubai, Abu Dhabi in the distance and of course the Arabian Sea. After our tour of the Burj Khalifa we had some time to spend in the Dubai Mall. Some of the restaurants and shops were very familiar, such as McDonald's, Pottery Barn, and even a Hallmark Card store. I even passed by a Five Guys hamburger stand.
We left for a very quick ride to the Address Boulevard hotel. The Address Boulevard is an absolutely amazing luxurious hotel located very close to the Burj Khalifa. Exquisite infinity pools and luxurious restaurants and accommodations, as well as being connected to the world's largest shopping mall, The Dubai Mall.  The hotel offered beautifully appointed accessible rooms that were spacious, included grab bars, and a small balcony.
We had a delicious lunch at the hotel, hosted by one of the managers. After lunch, we then took a short ride to the Palace Downtown hotel, another Address Hotel property. This was another luxurious property that is built on the edge of the man-made lake on Old Town Island but felt like it was in the middle of an oasis – not in the center of Dubai.  Such an elegant but practical property that included accessible guest rooms with accessible bathrooms.
We drove back to the Oberoi Hotel and had some time to freshen up and catch up on emails before we left for our evening entertainment, La Perle. La Perle is just a few minutes away from the Oberoi hotel in Al Habtoor City, an entertainment district where there are lots of venues for shows and music. The show is the first permanent show in Dubai and features over 65 world-class performers. Its venue was quite accessible with special designated seating for people of determination, with food and beverages available to purchase. The show is very similar to the Cirque Du Soleil shows that take place all over.
After the show we were transferred back to the Oberoi for our last night in Dubai. It was late, but I had enough time to pack and get ready for my early departure the next morning for Dubai International Airport.
While this was only my second visit to Dubai, I really did not want to leave. It's such a beautiful and intriguing place. More than 80% of the people who live there come from other countries, so there is this unique blend of cultures that seem to work together. Everyone that I encountered and met with, each place that I visited, made me feel welcomed. And that's the beauty of Dubai, isn't it?
I want to thank my friends and colleagues at Dubai tourism, especially Soraya Al-Olama, for their incredible hospitality during my visit. I also wish to thank the representatives from each of the hotels, entertainment venues, and restaurants that went out of their way to provide us with exceptional service. A special "thank you" to Emirates Airlines, not only for a very safe and delightful flight, but especially for a friendly and helpful crew that truly made me feel welcomed. To our driver and tour guide, Mr. Ihsan-ullah Umar Farooq, and his colleague, Mr. Mehul Bulsara, thank you so much for the very early mornings, the very long days, and the late nights. I hope you had a few days off after our tour.
To the Dubai government I want to say thank you for your efforts to help make Dubai an accessible and inclusive place to visit and to live. People of determination appreciate all that you're doing – please know that I do. I hope to be invited back soon to continue our work together.
shukraan lakum walsalam ealaykum