I first met Jose Antonio Bourdain, yes, from that Bourdain family, in November of 2019. We were both invited to speak at the first Dubai Accessible Tourism International Summit. I listened to his presentation about his company, Tourism for All, and the amazing services it provides for people with disabilities. I was intrigued. He also listened to each of my presentations. After we introduced ourselves to each other, we planned a lunch together later in the week.
During our lunch, I told Jose I had never been to Portugal and he told me to be patient and that he would see me there one day. Well, after a lengthy interruption due to the Covid-19 outbreak, we kept in touch and reconnected in late 2022. He told me that he was planning a Familiarization Trip (FAM Trip) for travel authors and bloggers and asked me to join the trip.
Gratefully, in early March of this year, I finally made it to Portugal, thanks to Jose and Tourism for All! The trip started off with a canceled British Airways flight out of Philadelphia so I missed the first day's events, but I joined the group seamlessly the next afternoon thanks to careful planning and coordination by the Tourism for All team, including driver, Ricardo, and trip coordinator, Carolina. After a friendly and timely greeting at the airport in a fully accessible van, we were on our way to meet the rest of the group at the National Tile Museum.
As we left the airport grounds and made our way first on the highway and then through neighborhood streets, I was quickly captivated by Portugal's simplicity, beauty, and mostly it's history, and my trip had only just begun. We arrived at the Madre de Deus Convent, founded in 1509, where the National Tile Museum was the not-so-best-kept secret within its walls. The Tile Museum has numerous displays that are dedicated to the traditional tilework of Portugal and the former Portuguese Empire. At the end of our museum tour, our group was treated to our own workshop where we painted our own tiles which were fired in the historic kilns. We received our carefully and beautifully painted tiles on the last night of our trip.
We left the museum at dusk to go to our hotel, the Villa Gale, to have dinner along with a great conversation with our host, Tourism for All and the director of our hotel. Definitely a long day, I could not wait to get a good night's rest. The room in our modern hotel was accessible with proper bed height, great floor space for wheelchair navigation, and an accessible bathroom with roll-in shower with grab bars on one wall. There was no flip down shower bench but there was enough room to get my knees under the sink. I just wish the mirror on the wall behind the sink was positioned a little lower to use it.
After a hearty and delicious buffet breakfast in the hotel the next morning, we checked out of the hotel and boarded our accessible tour bus for the Royal Palace of Queluz. The entrance and parking lot was a bit bumpy with cobblestones but could be navigated in a wheelchair with a little assistance and patience. Once inside, the marble and tile floors and wide doorways made it very easy to navigate and explore. This is an historic building with no heat and with open windows and doorways, so it was quite chilly inside and you should dress accordingly. The magnificent rooms and ornate furniture, preserved in much of its original form, were beautiful. Our guide from the Palace led us on a journey into the past as she described the purpose of each room and who had used them centuries ago. Ramps took us to the outdoor gardens, fountains and statuary. The pathways outside were constructed of a very small and dense stone providing nearly a solid surface to traverse, but people who use canes or walkers should be careful. Throughout the Palace I did not see anything that was tactile or Braille for people who are blind or low vision, and nothing was available for people who are deaf.
After our visit to the Palace, we again boarded our accessible tour bus for a drive through Estoril's promenade to the quaint and lovely resort town of Cascais. This area of Portugal's coastline included modern and historic homes and is a well-known fishing town with calm beaches in one area and a more robust beach area with jagged rocks and waves. There were plenty of shops, restaurants and a museum for visitors, most of which were accessible. We enjoyed walking along the sidewalks next to the beach and up a hill past the museum and a small zoo. Then we again boarded our bus to leave for the westernmost point of the Sintra Mountain Range of mainland Portugal and continental Europe, Cabo da Roca (Cape Roca).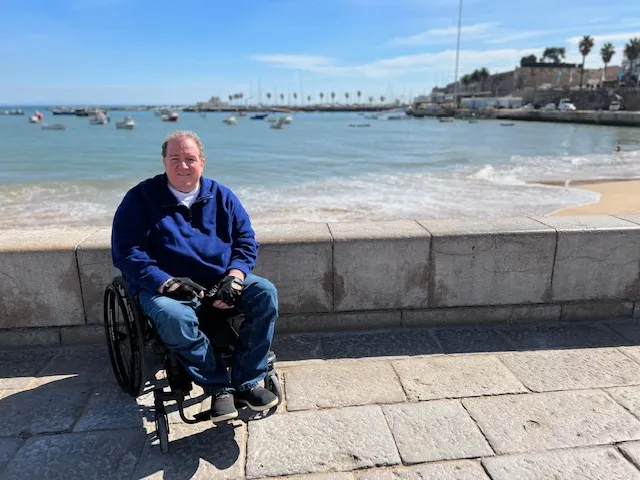 Our drive along the serene beaches to our next stop was scenic and, in some ways, peaceful. The empty beaches and crashing waves were alluring and dotted by oceanside restaurants and places where you could stop and enjoy the view. We had reservations at the Furnas de Guincho restaurant and you could not ask for a more perfect place to have a meal. Resting on the small stone cliffs literally at the ocean's edge, our group enjoyed a succulent meal of steamed shrimp appetizer, a traditional shrimp and clam soup, followed by a bowl of fresh fruit topped with a raspberry gelato. I could have easily spent the rest of the day here on the outdoor deck and wrap-around bar area overlooking the ocean, but we had to leave for Cabo da Roca.
It felt as if the roads became narrower as we drove to Cabo da Roca, with little or no guard rails to prevent any vehicle from plunging off the edge into steep ravines below – all of which added a little excitement to the drive, even though we had no worries thanks to the expert driving by Susana. We arrived at Cabo da Roca just about an hour and a half before sunset and it seemed like the timing was perfect. We made our way off the bus and down a small accessible pathway to the monument which officially marked Cabo da Roca. It was remarkable to be at that point at the right time and watch the sunset as we gazed across the ocean.
Thank you, Jose, Carolina, Susana, Susana, Ricardo, and our amazing tour guide, Pedro!
Stay tuned for part two of Fred's visit to Portugal, in our fall issue.