Andrea and Cara both love the outdoors. Leisure time is usually spent cycling, swimming, kayaking and hiking. They are an easy-going couple whose connection was almost instant when they met in 2014. As they got to know each other, they soon realized that there were many similarities between them which further solidified their connection. Now married and living in Kelowna, British Columbia, this couple continues to enjoy life together.
The fact that Cara is a wheelchair user does not hinder their lifestyle in any way. And, because of this, encounters with people who may ask what some might consider to be impolite questions, is sometimes met with a chuckle. It is not unusual for someone to think that Andrea is Cara's caregiver, or that they are sisters, not wives. Many inter-abled couples do face a barrage of assumptions, and being a same-sex, inter-abled couple adds to that intrusive list. Fortunately, however, they have not had to deal with much of that. Their families and friends are supportive of their marriage; they live in a country and city where communities are sufficiently accepting of same-sex couples, and wheelchair users, independently going about their day, are an everyday sight.
Cara is a very independent wheelchair user and Andrea jokingly says she sometimes forgets that Cara is a paraplegic.  She drives herself around on her solo errands and would also enjoy a cycle or swim, unaccompanied. No assistance is sought as she moves around during her day. And, so confident is she, that no offence is taken if someone makes an erroneous assumption about her capabilities. She believes offers of help from strangers come from a good place and is very gracious as she declines. If they persist in lending aid, she shrugs her shoulders and does not make a fuss.
Opportunities to speak about disability usually present itself on a sometimes-frequent basis. Cara is a substitute teacher and her days at each school starts with an invitation to ask questions. As she rolls into a classroom, she anticipates the children's curiosity, and to put them at ease, shares her story and invites them to ask questions, and they usually have many! Both Cara and Andrea believe it is important that people, especially children, know that someone will love you just the way you are and that being a person with a disability does not matter, that disability will fade into insignificance. Andrea recounts, "a few days ago, I said to Cara, let's take the stairs. And then I remembered – oh, you're in a wheelchair." That generated quite a few laughs between them.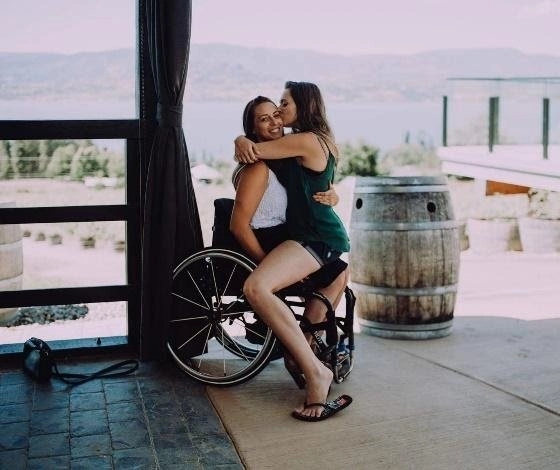 Speaking with Andrea and Cara, it is evident that they enjoy life to the fullest. Their Instagram page, @wheelationshipgoals gives you a peek into a life of travel and adventure, food and wine. Be it Thailand, Vietnam, Bali, Jamaica or Australia, they discover new places together, reacquaint themselves with old ones and make great memories as they go along. On their travels, however, not many of the places are fully accessible. They have booked rooms that claimed to be accessible, but on arrival, they discover the bed is too high for Cara to independently get on and off; or a shower which they expected to have been accessible turns out to be a step-in shower. In spite of these occasional travel inconveniences, they are not deterred, so follow them on Instagram to see where their next adventure will be. It may be an excursion close to home in their accessible city of Kelowna, after all, Covid has restricted travel, but staycations are still possible, and now that restrictions are being slowly lifted, they may just have another local adventure to share. Kelowna is a beautiful city and it is an accessible one, so those who are on the search for new places to discover post-pandemic, think about heading to Kelowna.
Living in a city that is accepting of all, whether you have a disability or identify as LGBTQ+ does have its benefits for a same-sex, inter-abled couple – the possibility for unkind, rude comments and reactions are significantly reduced. But this is not the sole reason for Cara's light-hearted, comfortable outlook on life. 10 years ago, when her fall from off a swing left her with a T6 spinal cord injury, it was a challenging transformation into her new life, but she carries no hint of despondence in her demeanour. She shared, "I'm actually living a healthier, better, more balanced life after my accident. Although I had my teaching degree, it wasn't until after my accident that I got into teaching. And, I met Andrea, my soulmate. I don't think that would have happened unless I had my accident. So, I think it was actually a blessing in disguise."
Someone will love you just the way you are.
Follow Andrea and Cara on Instagram @wheelationshipgoals