When Ken and Cheryl Edmonds couldn't find answers to their simple questions, they started creating content about accessible travel. That content informs people with challenges, their friends and families, so they can travel better and avoid pitfalls. Find more on their social channels and blog, Traveling with a Chair.
Cheryl
I have a connective tissue disorder and as a result, most of my back is fused. Along with that I have had multiple joint replacements. As a result, traveling can be a challenge. I cannot be scanned at the airport without setting off the alarms. My wheelchair and I always must be manually inspected, but I am used to that.
While I love to travel, being on camera is not my favorite thing. But Ken affectionately calls me his prop and knows how to bring a smile to my face. I will say this, we go to amazing places and have fun even though I have unique challenges.
Ken
This is a rare picture of me, I am usually behind the camera taking pictures of my beautiful wife. Why else am I smiling? The sculpture next to me is chocolate and I am looking for a fork.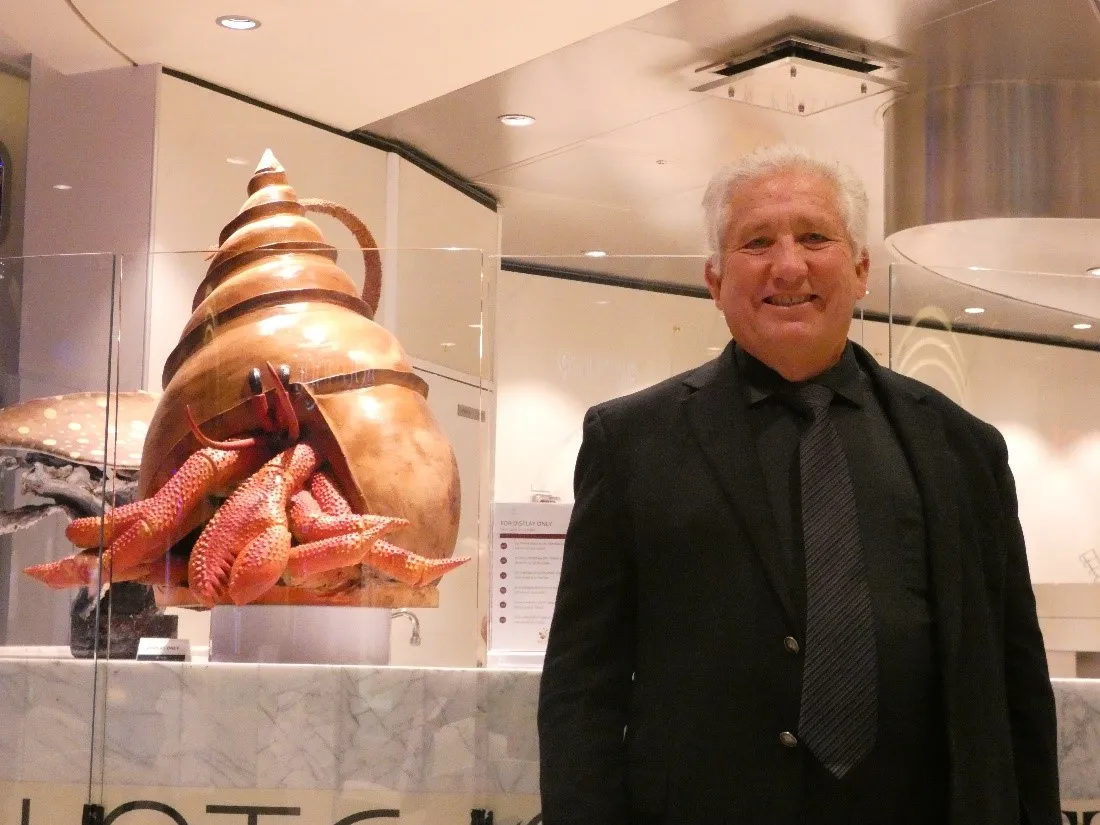 We travel a lot, and people think it must be like being on vacation. But we work to capture pictures and videos that answer frequent questions about traveling with challenges. Our other enjoyable task is to review meals and restaurant accessibility. When there are more than three choices per day, we may split and conquer. But sometimes we may have to do double duty.
Finding answers
In the past few years, we have taken 20 cruises, visited five all-inclusive resorts, and stayed in numerous hotels. We travel an average of once a month. When we travel, in addition to documenting what we see and experience, we share suggestions with resorts, tour companies, hotels and cruise lines about improving accessibility.
During our travels, we post shorts and reels, and later we create videos of the places we visited. We focus on demonstrating how a scooter or wheelchair works in each destination and excursion. Videoing excursions is quite an enjoyable way to help show accessibility of destinations. But sometimes the excursions prove inaccessible, and we document this as well. This is proving to help others determine whether those destinations or excursions are accessible for their abilities.
Another way we help is by interviewing other frequent travelers with disabilities to see what they had to overcome and what they recommend. We find their stories enlightening and inspiring.
Another method is helping destination marketing organizations to display accessibility in their location. We work with properties and chambers of commerce to both highlight and evaluate their accessibility.
We have had the privilege of interviewing most of the ADA compliance managers for the various cruise lines to make sure our audience can get the most accurate information possible. We have had the privilege of sailing on Carnival, Holland America, Princess, Royal Caribbean, Celebrity, MSC, Virgin Voyages and Norwegian Cruise Line. We eagerly await a wonderful cruise from Quebec to New York this fall on Cunard. And this year we will be cruising MSC, Celebrity, and NCL to document accessibility of new ships in the market.
This spring we spent three beautiful days in Astoria, Oregon working with Wheel the World to film accessibility for Astoria / Warrenton Chamber of Commerce. Later this year, we have land trips to the Dominican Republic and Cabo San Lucas to document accessibility there.
Plans for next year include a cruise to Hawaii from San Diego on the Holland America Line. This is the best way for Cheryl to travel there, as we do all we can to avoid long flights. A bucket lost for Cheryl would be the HAL cruise to Tahiti.
Whether we fill our bucket lists or not, one thing you can be sure of is that we will be documenting accessibility somewhere, somehow. And finding ways to enjoy traveling despite challenges. We look forward to meeting you on our adventures soon. ~ Ken and Cheryl
Highlights from Alaska, 2022
Accessible Journeys found these highlights from the Edmonds' 2022 trip to Alaska.
Blog: Cheryl blogged about working up her nerve to be released on a very steep Alaskan zipline adventure. She recalled the words of a wise surgeon as she was about to undergo a major operation: "it's okay to be afraid, and in fact it's probably good." Read this beautiful account of Cheryl and Ken's zipling at Icy Strait Point, Alaska.
Vlog: Ken got out his video camera to chronicle their Sept. 2022 cruise on the Aleutian Ballad Bering Sea Crab Fishermen's Tour. Running out of Ketchikan, this Bering Sea excursion was voted best tour many years running, and the boat was featured on the television show, Deadliest Catch. Although the fishing boat is rugged, and has fought many storms at sea, it is now very accessible as Ken documents.
Vlog: All aboard the White Pass and Yukon Route train! This video, from Sept 2022, follows Ken and Cheryl disembarking the Radiance of the Seas in Skagway, Alaska to board the White Pass and Yukon Route train. Cheryl used her manual wheelchair on this trip, with staff assisting her from the ship and onto the train for more scenic adventures.